A garbage disposal unit is a very useful device but like every other machine, it comes with its set of problems too. Food particles getting clogged in the machine remain the most common problem. Whenever this happens, the first thing that comes to your mind is reaching out to a plumber to fix it. If the issue is not too serious, you can sort it out yourself. You just need to possess some basic DIY knowledge and some tools like an Allen wrench to deal with a clogging-related issue and I'm here to help. Now, you must be wondering how do you use an Allen wrench to fix a garbage disposal?
There is a hole that you can trace beneath the sink which is present at the bottom of the disposal unit. Use the wrench just the way you would use a crank and insert it inside the hole. After that, you need to follow a few simple steps to fix the issue.
What is the Allen / hex wrench for on a garbage disposal?
When it comes to garbage disposal units, an Allen / hex wrench is used for fixing clogging-related issues with the machine. If a waste material or a food particle has got stuck in the interiors of the disposal unit, you can use an Allen wrench to get it removed. The wrench proves to be useful in turning the garbage disposal unit in different directions so that the jam could be removed. With a bit of practice and knowledge of DIY skills, you can fix a clog in your garbage disposal unit easily by using an Allen wrench. (Recommended article: "The Best Garbage Disposals on the Market In 2021")
How do I fix my garbage disposal without an Allen wrench?
If using an Allen wrench doesn't help you in fixing your garbage disposal unit or removing the clog it is suffering from, you can try an alternative method that might just do the trick for you.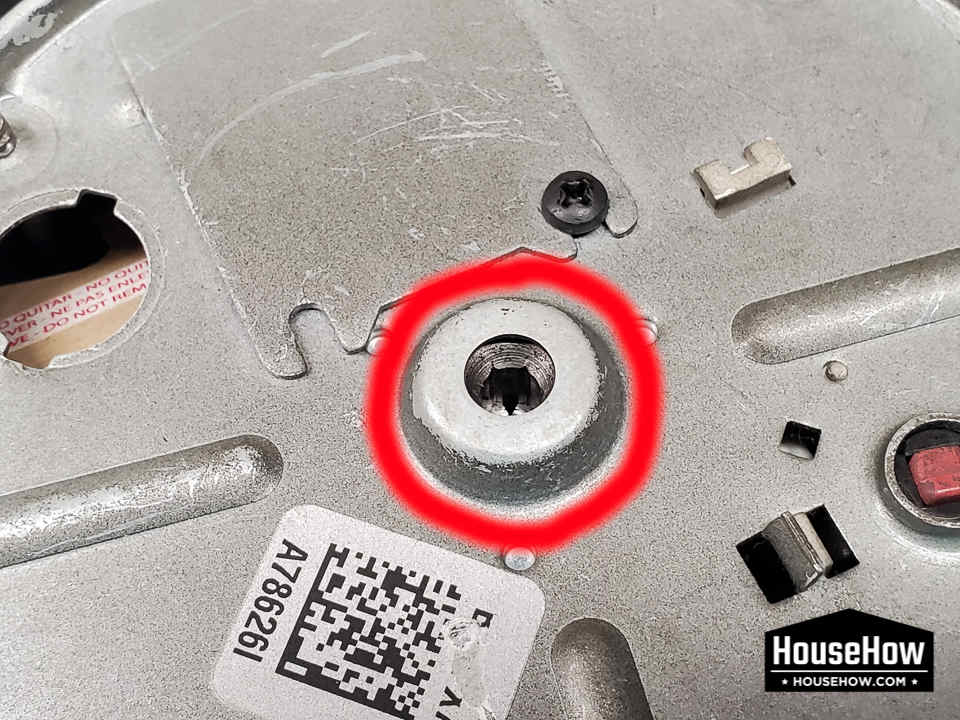 Step 1
First, switch off the power supply. Then, get the black rubber ring removed so that you can have a better look at the machine. You must have a very powerful flashlight at your disposal as you will need intense lighting to inspect things properly.
Step 2
Get yourself a 3/8″ dowel stick to work around the cutter plate. You can turn the dowel stick around slowly to figure out where the device is making a lot of noise or is getting stuck. There is a high possibility of waste food material getting stuck in the gap that exists between the unit's edge and the revolving cutter. You must inspect this area thoroughly. If you find something stuck there, you can remove it with tongs or pliers.
What size Allen wrench do you use for a garbage disposal?
The kind of Allen wrench you would be using for your garbage disposal unit depends on a bunch of factors. In case your garbage disposal unit comes with a disposal wrench slot, then you should be using a ¼ inch Allen wrench. There are companies like InSinkErator that make the kind of wrenches that would work exclusively with the disposal units they produce. If you try any other kind of wrenches on their machines, they won't fit.(Recommended article: "Everything You Need to Know About Using Modern Garbage Disposal")
Related Questions
What does an Allen wrench look like?
When you see a small or compact-sized wrench that resembles the letter 'L' and has six sides to it, you must know that it is an Allen wrench. An Allen wrench's cross-section looks very similar to a hexagon. Because of having a very specific shape, an Allen wrench can be used only on machines or objects that are designed for it.(Recommended article: "What You Should Know Buying Garbage Disposal in 2021")
Is a hex key and Allen wrench the same thing?
Yes, an Allen wrench is also referred to as a hex key or a hex-key wrench. These alternative names are a result of the fact that it has a hexagonal cross-section that helps it fit in with different kinds of set screws and machine screws that feature recessed holes in the shape of a hexagon.
Are there different kinds of Allen wrenches?
There are different kinds of Allen wrenches. The L-shaped wrench is the most popular Allen wrench and one that is very easily available. It is largely used for assembling furniture that is used in one's home. As it is a very basic shape, you can use it for a wide variety of purposes including unclogging a garbage disposal unit.
Then, there is the P-Handle Allen wrench that proves to be extremely useful in professional workshops. Some of the other kinds of Allen wrenches include the Folding Hex Key, Torque Wrench, Ratcheting Drivers, Key Ring Sets and Ball Hex Sets.
How do I know the size of my Allen wrench?
The size of an Allen wrench is mostly stamped on a corner of the tool. The problem is that after using the wrench for a while, the imprint wears off and you find it difficult to determine the size of the tool. Even if it doesn't get rubbed off completely, it becomes too tiny to be read by naked eyes. In such a situation, you can get an Allen wrench or a hex key chart and use it to find the exact size of the tool.
Related community topics
If you have any other questions that are not answered in this article, you can ask them on our Home Improvement Community Forum by clicking on this link.