Installing a toilet may not be as complicated as some of the other home projects one can work on but it can go wrong if you aren't careful. It's not just about installing the toilet after all as giving it some time to set is also very important. If you use it as soon as you install it, you might have to do it all over again. In this article we will answer the question how long after installing a toilet can you use it. So, how long after installing a toilet can you use it?
As a general rule if silicone or caulk was used during installation to connect the toilet to the floor, it is recommended that you wait 3 to 6 hours. If the toilet is only bolted to the floor (not a great idea), then you can use the toilet immediately. Of course, if you do not intend to sit on the toilet, you can use it immediately in any case.
Many people use the toilet within half an hour only to find all that time and effort gone to waste. In principle, as long as you don't sit on it, you can use it right away. However, to be on the safer side, it would be better to wait a few hours even in this case. Let's dive a bit deeper into why you should wait a bit before using a freshly installed toilet. (Recommended article: "How to Secure a Loose or Wobbly Toilet?")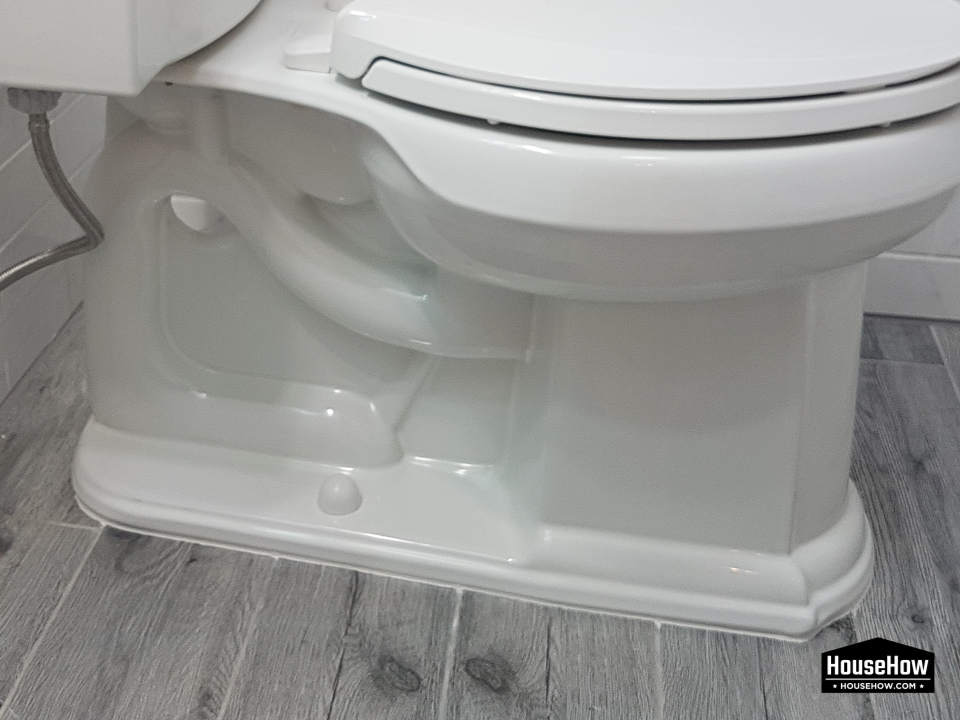 Ask on our forum
If you have any other questions that are not answered in this article, you can ask them on our Home Improvement Community Forum by clicking on this link.
How long should you wait before using a freshly installed toilet?
There are a few scenarios that can occur while installing the toilet. One where caulk is used, one where grout is used and another when neither was used. Let's take a look at them individually.
Silicone / caulk used – Caulking involves two phases, namely curing and drying. Once the caulk is applied, you must wait for it to dry so that it won't move or get smeared on touch. Even after it has dried, it still shouldn't get wet as the curing phase starts after that. This is essential because only after curing can the caulk hold up to water. The drying time may differ from one product to another so make sure you read the instructions and follow them. Most of them take about 30 to 60 minutes. Curing takes a lot more time. Most caulk products require up to 24 hours. There are fast curing or fast drying silicone or caulk products too which may require only 3 to 6 hours.
Grout used – Grout is used around the base of the toilet sometimes as it provides better support than caulk but it is more difficult to remove. If it is used, you need to wait for it to dry completely before using the toilet. If water gets on it, it won't be able to dry properly and over time, your toilet won't be having a strong enough support at its base. Once the toilet is installed, you should wait at least 6 to 12 hours to ensure that all the work won't go to waste.
No caulk or grout used – In this case, you don't have to wait as there is nothing that needs to dry. You can use it immediately but you will have to be prepared for the long term consequences such as bad support for your toilet and leakage issues. It may be easier to make repairs without the use of caulk or grout but it will allow water on the floor to creep beneath your toilet. You will also be going against plumbing codes by not caulking the base of your toilet. In short, you will get a few good short term benefits but bad long term consequences. More about this topic you can read here: "Should a Toilet Be Caulked?"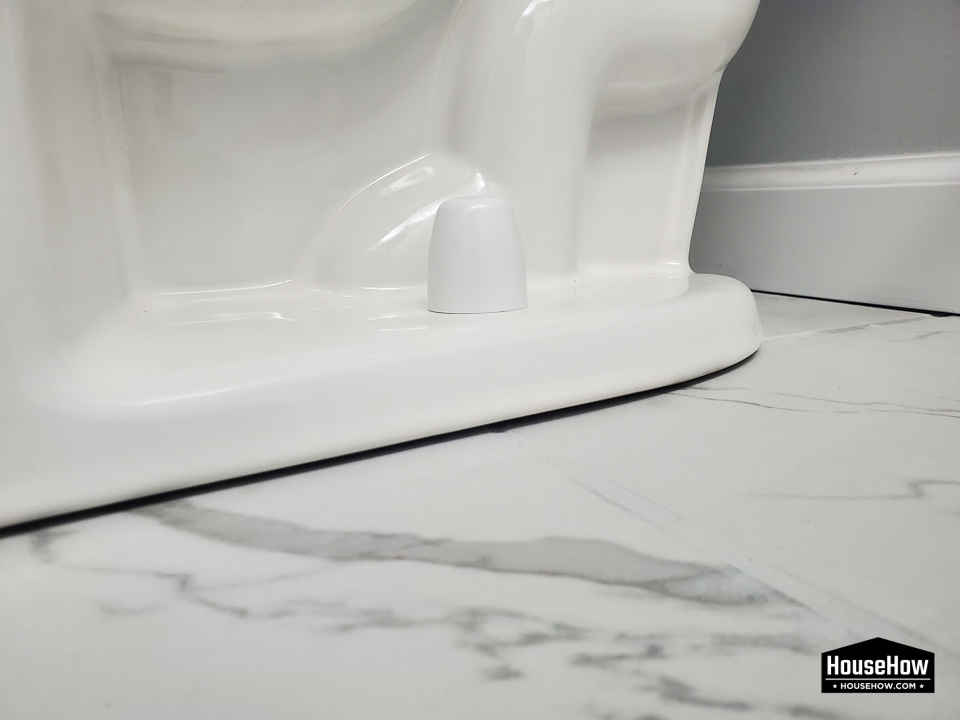 Grouting a toilet base
Grouting is usually done before the installation of a toilet to ensure that the tiles are set properly. Without applying grout in between tiles, they will start shifting once you apply some weight to it. Sometimes, grout is also used once the toilet is installed. In this case, it is applied between the base of the toilet and the tile. This is done as it provides a more permanent solution to leakage than silicone caulk. When using grout it is also recommended to install shims to make sure that the toilet remains on an even level. (Recommended article: "Should You Tile Around or Under a Toilet?")
Related Questions
Can you use a toilet immediately after installation?
You can, as long as you don't sit on it but it is not recommended to do so. This should also be done only in emergencies where there aren't any other toilets that are free and you can't hold your urine any longer. If the base of the toilet is caulked or grouted, then it would be wiser to wait for a few hours as described above. It might be a minor inconvenience but in the long term, you will be thankful you waited when it comes to time, effort and money. If you really don't have a choice, try not to burden the toilet with all your weight.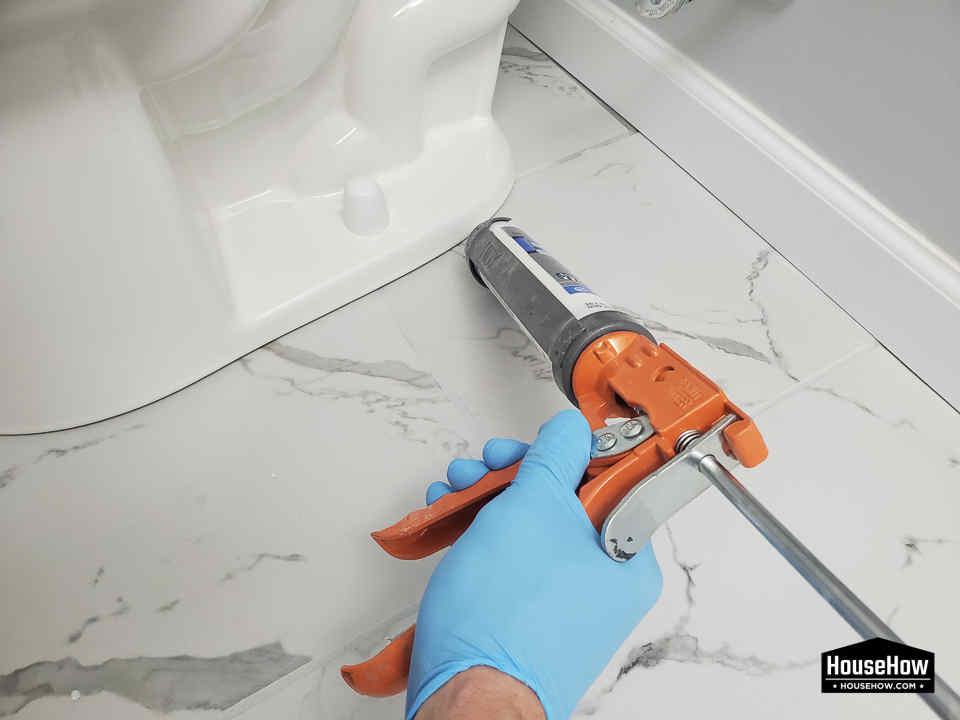 How long does silicone need to dry before installing a toilet?
This depends from one product to another as there are many different types of silicone caulk in the market today. Fast-drying caulk takes lesser time to dry up than standard silicone caulk but it still would be advisable to wait for at least 3 to 6 hours to make sure it dries properly. Similar to using a toilet that didn't use caulk or grout, you can use it immediately if you won't sit on it. But do make sure that you don't get the area wet. If you want to know more about it, I recommend the article "Should a Toilet Be Caulked?"
How long does grout need to dry before installing a toilet?
Grout being a more permanent solution requires a significantly higher amount of time to dry than caulk. The drying time may again differ based on the composition of the grout but in most cases, 6 to 12 hours would be enough. If you are unsure about the drying time, check the manufacturer's instructions or consult a plumber. Better to spend a little money now than to spend a lot more later on trying to fix what could have been fixed before.