PEX or Cross-linked Polyethylene has been used for over twenty years to perform plumbing in residential and commercial buildings. Before that, the only system in use was the one based on copper pipes. They usually come in blue, red and white and they are great for fixing up water lines that may have leaked as well as for the construction of new water supply installations. The pipes indicate different kinds of temperatures that the water is currently at. If the pipes are red, then the water is hot. If the pipes are blue, then the water will be cold. White pipes indicate that either hot or cold water could be running through it.
Is PEX tubbing safe? PEX tubbing, which is available on the market is not dangerous to health. The tubes have all the necessary approvals and certificates. While there is no doubt about the safety of pipes through which cold water flows, it is doubtful whether we have the same situation with pipes through which very hot water flows.
Are PEX pipes toxic?
A large discussion of these somewhat recent and relevant pipes is if they pose a threat to those who drink it. According to "sciencedaily's" article in 2011, it states that there were currently no threats when it came to affecting a person's health. Really, the only cause for concern would be the taste of the water and if the drinker reported an unlikable result. The article also states that the number of chemical compounds in the water was really low. Not to mention that some of the healthiest countries in the world use them.
But as time goes on, skepticism is likely to increase and more questions are asked. It's almost 2020, being over 8 years after that article released and new information is bound to release to the public. Before any of the cons are brought up, it's important to mention why people switched over from copper to PEX tubing. Mainly, the big reasons were because of the ease of use, lower costs, the resistance of acid, and leaks were very unlikely to happen. Rust, in fact cannot rust, but it can corrode which will definitely affect the taste of water in time.
In contrast, Greenbuildingadvisor cited and interview from Arlene DiMarino. She states that she is afraid of the pipes due to some reports that the pipes can have volatile organic compounds after a significant amount of time. This is mainly due to the plastic inside of the pipes and some problems are inevitable. Right now, there aren't many reports that seem to report the PEX tubing as dangerous in any way. One major problem is if the tubes get exposed to sunlight, there are major problems even if it's not for a long time. This is something that every user of these pipes has to take into consideration.
Some reports say that ruptures have happened as fast as a week if the pipes are exposed to sunlight. Chlorine is one of the most important chemicals that they use in relation to water. People most commonly know them for disinfecting pools but can also be used for drinking water. If a person wanted to drink water from a lake, they would have to insert a chlorine tablet into their drinking bottle and wait close to 4 hours for the optimal drinking experience. In the context of PEX tubbing, sunlight is going to hurt the pipes ability to allow Chlorine to do its job.
When it comes to the safety of PEX pipes, they are very safe as long as you are using them properly. There are certain limits, just like how there are limits in any instrument. For starters it can't be melted, and if it burns that could release harmful toxins. Most of the PEX pipes used correctly can last for 25 years in most cases. There aren't methods of disposal that every citizen can use, but there are likely specific and less common services that will dispose of them for you. This is similar to the method that tires are disposed of.
Why is PEX banned in California?
It might be a surprise to many Americans that the state with the highest population has banned PEX tubing in the past. Before conclusions are drawn, it is important to realize some of the problems that California is having. Even to this day, there are forest fires happening across the state which could possible burn the PEX pipes and release harmful chemicals.
The other important thing to consider is their drought problem. California has roughly 38-40 million people in it and they are getting into a situation where water is getting more expensive and they need to preserve it in the right way. In a state that gets so hot over the summer, the issue that those citizens need to concern themselves with is that sunlight won't get into the pipes. Public Schools use many forms of natural sunlight, and those pipes would be exposed and weaken incredibly quickly. Unfortunately schools don't have much budget to repeatedly replace those pipes.
The PEX companies like NIBCO even filed a class-action lawsuit against the state of California. The major issue that that these companies seem to have had is that they felt like certain building codes were unfair and didn't go in their favor. California may have made these regulations just because they didn't know enough about the product, but clearly, they weren't letting up. These companies ended up winning the lawsuit and a settlement ended up happening at the end of the lawsuit. This happened during the early 2000s, but the idea of PEX pipes being harmful to people seemed to come up less and less as time went on.
The product was banned in 2001 from the California '01 code. But as time went on, lawmakers became more and more educated. Lawsuits happened, and the buildings that needed these kinds of pipes realized that it may save them a ton of money to get this done for themselves. In 2009, the state of California lifted the ban and allowed sales along with buildings using PEX pipes and it was a major victory.
Today, even the normal home buyer might use them just because they can last for a long time and is more versatile than copper tubbing. Getting copper tubes may have been more expensive then getting the PEX products today. Now when you purchase PEX tubbing it also give the consumer a lot of length to work with, giving them a great value for what they paid for. Homeowners won't have to worry about the taste of the water or if it as long as they take care of the pipes. Copper would've given the average person more issues.
Is PEX good for hot water?
To know the answer to this question you have to know the physical limits of water. Water boils at 212 degrees Fahrenheit or 100 degrees Celsius. There are situations where a person may want their water to be hot, but there aren't many situations for water that hot. This also means the tubes are going to retain the heat for awhile and is something that people need to be aware of. These pipes are just for transporting the liquid from one place to the other, not for keeping in the pipe for long periods of time.
According to Doityourself.com, the maximum temperature that the PEX pipe can withstand is 200 degrees Fahrenheit. This means if a person wants to put in boiling hot water into their pipes and allow it to flow, they would fail. There are some reports that say the pipes give out around 180 degrees Fahrenheit. Doing so is also going to permanently damage the pipes, as they weren't meant to be heated at that high of a temperature. Not only that, it also becomes a health hazard. It's definitely something that everyone should be careful about.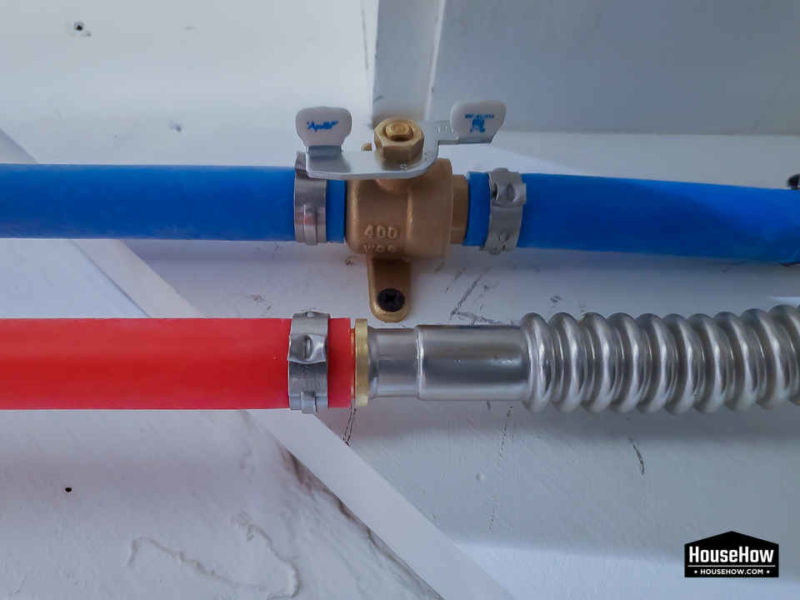 Burning yourself or others can also be a major concern for people. If you push the pipes to max temperatures, you or someone else could easily get a first degree burn on their hands. Thankfully, there are certain codes that buildings must follow so that they don't get hurt. Red tubbing is for the hot water that's taken in and blue is for the cold water that's taken in. There's also white tubing that can either be hot or cold water. Just to be safe, if you happen to be in control of one of these buildings, you should try to make sure the pipes are labeled just so someone unsuspecting doesn't touch it.
Then you need to ask yourself what happens if your PEX tubbing is damaged by being at too high of a temperature. There have already been complaints about the bitter taste of the water when people drink it. However, the long time health effects are what should really be so concerning. The volatile organic compounds that get released when the PEX burns could be a serious health risk. You should hire someone to take a look at it every once in a while just to make sure that it isn't damaged.
Does PEX contaminate water?
Not necessarily, or at least, not on its own. There have been reports in the past of people expressing their distaste in the water but that can't be used as evidence for contamination. Taste is very subjective, there are many different brands of water, and it may have been contaminated before it went into the PEX pipe. There are also times where there may be some chemical compounds in the water after it entered into the PEX tubbing but didn't actually affect the taste. Knowing how it affects the taste must be taken on a case by case basis.
What can be a major worry is sunlight. Even 92 million miles away, solar energy can cause problems for certain tools on Earth. The PEX tubing has a tendency to weaken after exposure to sunlight due to UV rays.
People like this product because it has resistance to acids and other chemicals as one of its selling factors. But once too much solar energy is exposed to the pipes, chlorine will start to become very ineffective. Chlorine is one of the most important elements because it allows water to be disinfected and keep away bacteria.
Related community topics
If you have any other questions that are not answered in this article, you can ask them on our Home Improvement Community Forum by clicking on this link.