It is very important to choose the right materials for the type of renovation or build that you are going to be making otherwise even if you do a great job in your construction project will not last for a very long amount of time. In this article, we are going to make sure to fully inform you about all the uses of ground contact materials to help you make the educated choice if they are right for you.
What does 'ground contact' mean? Ground contact is a term used to describe building materials that are designed to not degrade when in contact with the ground or concrete when outdoors or indoors. This term is usually most widely used for wooden materials.
It is important to note that despite these types of wood being created for ground contact and being scientifically proven to last for a much longer amount of time that it also depends on how you treat the materials during their lifetimes. For example, if you decide to have constant paint jobs with special exterior and waterproof paint your materials will last a lot longer as that initial coating and preparation that your materials came with when it was originally bought from the surface over time will weather away by you using it and also the weather.
Furthermore, there are different types of ground contact wood for you to choose from that are built to last in certain environments such as tropical environments where there is very frequent rain coupled with high levels of humidity which make a perfect environment for wood that is not suitable to start rotting away. Additionally, there is wood that is designed for commercial uses where on average you will have a lot more people coming into contact with it either by walking on it if you have a wooden deck or in other ways, although your average store-bought piece of ground contact wood will work it will not be the best option as it will not last as long.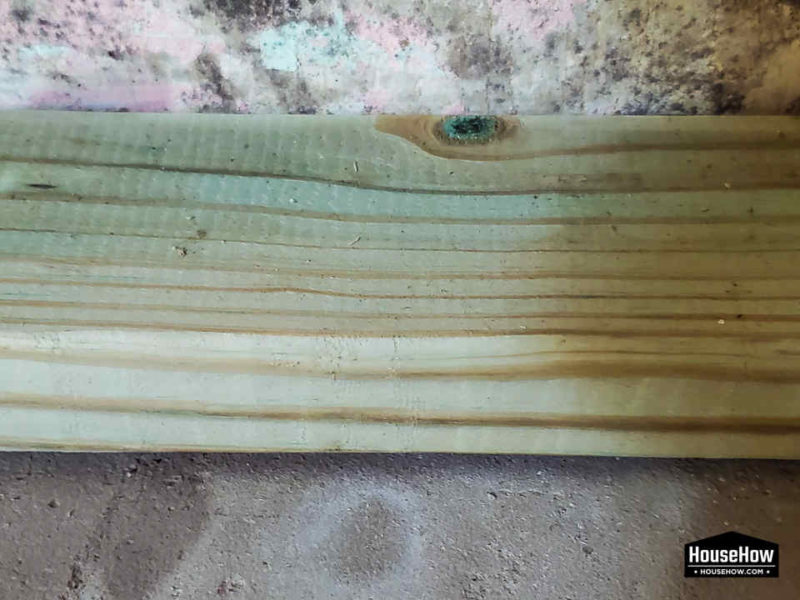 The conclusion you can make from this is that the most important thing is not to buy pressure-treated wood but also to buy the right type of pressure-treated wood for your situation and make sure that you give it frequent top-ups of exterior paint or outdoor varnish.
We hope that we managed to answer your question about what ground contact means, below we have included subheadings of the most common questions related to this topic that is worth quickly reading over in order to enhance your knowledge of this important topic.
Related questions
How is ground contact wood made?
Ground contact wood is wood that has been cut up in a way that removes the tree bark from the wood, and then the wood is covered in special preservatives either by being sprayed on or being dipped in it. These preservatives give a protective layer both inside and outside the wood that limits the amount of water it can absorb and also makes it a less attractive proposition to various organisms such as termites that likes to eat on rotting and exposed wood in your garden.
After it has been soaked the wood is then put in special pressure chambers that make sure that all the chemicals that have been applied on the wood are fully absorbed to maximize the protection your material receives and increase the lifetime of the product that you are buying. Here you will find a comprehensive article on pressure treated lumber
Is ground contact wood more expensive?
Ground contact wood is a bit more expensive than wood that has been simply chopped up and sold pre-treatment, however the difference in price in minuscule and if you are buying large quantities of product you will see that there are only a few dollars in difference. And it is actually very good value for money as the wood comes treated already which is great as if you decided to treat the wood yourself it will end up being far more expensive for you and also time-consuming with the added risk of you potentially not doing the job right. Check pressure treated wood prices on the Home Depot website.
What types of climates is ground contact wood best for?
Ground contact wood is generally good for all sorts of climates and with all honesty will last the longest in an environment where there is not a lot of rain, moisture and humidity as well as very few wood-eating insects. However, it is specially made for the opposite kind of environments where you are likely to get rain nearly every day either all year round or during seasons such as autumn, winter and maybe spring.
As we mentioned earlier above there are specially made types of pressure-treated wood for different environments that will make sure that your wood lasts even longer in those environments thanks to specially adapted chemicals and preservatives that are added to your wood.
What locations on my property should I be using ground contact wood on?
This wood is best used in your garden or in areas of your house that will be exposed to moisture so another good idea is if you, for example, have a balcony or a rooftop expansion you can then build a little structure using this wood and you will not see any problems.
What type of treatment should I give my ground contact wood?
Treating this type of wood in order to increase the amount of time that it is going to last is highly recommended by all experts on the matter, and luckily for you, it is actually very simple to do. The first step will be to buy high-quality exterior paint or varnish, and then you can sand the surface if you want to in order to allow for the fresh coat of paint to be applied with fewer issues and ensure that it manages to fully attach to the material you are painting. It is good to paint your surface every couple of years for maximum benefit.
Related community topics
If you have any other questions that are not answered in this article, you can ask them on our Home Improvement Community Forum by clicking on this link.