When you pass through a garbage disposal unit, you cannot help escape the stinking smell that comes out of it. The garbage disposal unit contains waste material of different kinds and when all of them come together, it is bound to create a foul smell. If you are planning on installing a garbage disposal system in your vicinity, you must be worried about the possibility of it emanating a stinking smell. So, how to make garbage disposal smell better? What to put down a garbage disposal to make it smell better?
There are several methods for getting rid of the bad smell from garbage disposal. The most effective is rinsing it with special chemicals such as "Disposer Care", but also the popular baking soda. However, it is best to thoroughly rinse garbage disposal with water after each use.
Ice is readily available and hence this was the first thing I tried out while dealing with this issue. And, guess what, it worked for me! Just fill the disposal unit with a large number of ice cubes and allow them to keep getting ripped until all the ice turns into water.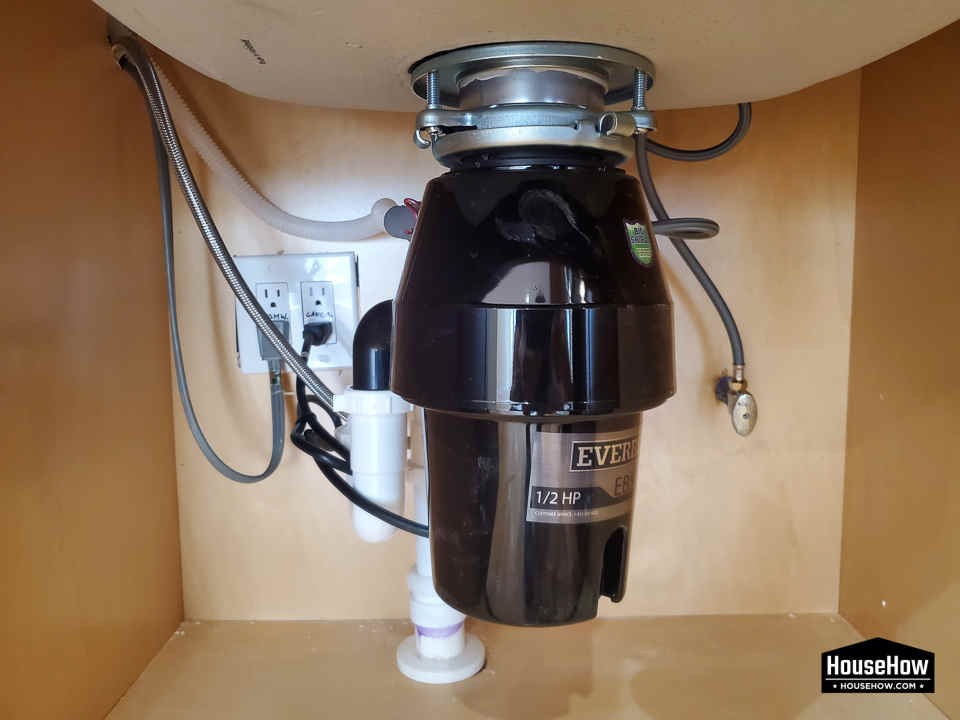 Why does my garbage disposal smell so bad?
Your garbage disposal smells so bad because it happens to be a kitchen appliance that works towards breaking or grinding up waste material like food scraps into extremely small units so that they can be washed down the drain. While the machine is very effective at doing this job, it results in a stinking smell that spreads across your kitchen area (or beyond) in no time and makes you feel suffocated. This foul smell is largely produced by decaying or rotting food stuck inside the drain pipes or around the edges of the cutting blades. The longer these particles stay there, the longer will you have to beat this smell.(Recommended article: "The Best Garbage Disposals on the Market In 2021")
How do you freshen a garbage disposal?
There are various tricks and methods of freshening garbage disposal. One of the oldest and popular techniques is the usage of citrus fruit. Cut a lemon into fine pieces and put them into the garbage disposal machine. Citrus helps in washing away the foul smell and also exposes you to a pleasant smell. The vinegar and baking soda combination are also quite popular when it comes to dealing with the foul smell coming out of the garbage disposal unit.
After switching on the garbage disposal system, put a small quantity of dry baking soda into it. After that, use distilled white vinegar to wash the baking soda. Bleach is also recommended as a cleaning agent for garbage disposal as long as it's not too strong and the water is running consistently throughout the disposal unit. Use just a small portion of bleach and check if the foul smell is withering away or not. The bleach also helps in freeing food material that might be stuck in the drainage pipes.
What is the best garbage disposal cleaner?
A lot of people who use modern garbage disposal find foaming tablets and pods to be one of the best garbage disposal cleaners. Apart from being convenient to use, they prove to be very effective in eliminating unpleasant odor and replacing it with a pleasant smell. The best part about using these cleaners is that you don't have to use your hands to scrub the disposal and get rid of the waste material. These tablets engage in 'lathering action' and do a splendid job at cleaning the garbage disposal system on their own. If you feel you don't have a lot of waste material stuck in your garbage disposal, then you can simply use a cleaning brush to wash it thoroughly.
What is the cheapest method to clean a garbage disposal?
The cheapest method to clean garbage disposal is using ice cubes. You can find them in your fridge and they don't cost you any money. Like I have done in the past, you could use a combination of multiple cost-effective methods to clean up your garbage disposal. After putting a bunch of ice cubes through the drain, you could pour a moderate amount of rock salt through the same system and then switch on the garbage disposal. Run cold water through the system for 5-10 seconds to wash everything away.
How often should you clean your garbage disposal?
I make it a point to clean my garbage disposal once every week. If you feel you are using a premium quality garbage disposal system that doesn't need to be supervised regularly, then you could clean it once every 2-3 weeks. However, regardless of the kind of machine you are using, cleaning it once a week would be a very good idea.
Related Questions
Can you clean garbage disposal with vinegar?
Yes, you can. Based on my experiences, I would recommend you to use a combination of baking soda and vinegar for better results. Ideally, you should fill half a cup with baking soda and pour it over the garbage disposal. Then add vinegar in a similar quantity. If you see bubbles, you must know that the solution has worked. Now, don't do anything for 10 minutes. After 10-12 minutes have passed, run cold water through the disposal to wash the solution away. Your garbage disposal machine should be sufficiently clean by now.
Will baking soda and vinegar damage garbage disposal?
The combination of baking soda and vinegar is used by many to clean their garbage disposal. Though this combination proves to be quite effective in cleaning the disposal unit and driving away the foul smell, you must remember to use it only occasionally. Vinegar is acidic and has the potential to cause damage to the rubber components present inside the garbage disposal system.
Why does my garbage disposal smell like poop?
When your garbage disposal starts smelling like poop, you must know that it is cluttered with food waste in excessive amounts. This waste should have gone down the drain a long time back but clearly, has got stuck there. This kind of waste can be found in different corners of the garbage disposal such as beneath the impellers or crannies or in the grooves of the machine. Aging or old mechanics could be a reason behind food getting stuck in various areas of the garbage disposal. The machine is not being able to grind food waste as efficiently as it should and that has resulted in this problem.
Why does my garbage disposal smell like rotten eggs?
The most obvious reason behind your garbage disposal smelling like rotten eggs is hydrogen sulfide. It is one of the multiple compounds that constitute the gas that one finds in the sewage system. If you wish to check whether the foul smell is coming from the drain or the water, there is a simple way to do it. Put some water in a glass and place it in the same sink from which the foul smell is coming. Take the glass of water outside and try to smell it. If you feel the water is letting out a foul smell of sulfur, take a different glass of water from another sink and repeat the process. If the water in each of the two glasses smells like rotten eggs, it means the water is impure. If only one glass smells bad, the issue is with that drain.
Related community topics
If you have any other questions that are not answered in this article, you can ask them on our Home Improvement Community Forum by clicking on this link.