Home renovations are a part and parcel of our daily lives. While we can always outsource them to professionals, painting your own home comes with its own unique reward. Out of all the rooms, however, the bathroom may be a bit more complicated to paint as they have relatively less space and most likely will be wet to boot. Let's see how long does it take to paint a bathroom.
How long does it take to paint a bathroom? It takes 4-6 hours to paint a medium-sized bathroom (5x8ft) in two layers if you are painting the ceiling, walls, trims and doors. If we are going to paint only the walls, it will take about 2 hours.
While the above is a highly summarized answer to the query, we need to delve a little deeper to fully understand all the factors at play and to streamline your process in the most efficient way possible. Let's take a look at some of them below.
How to paint your bathroom fast?
This is something that can greatly reduce the amount of time it takes to paint your bathroom. Bathrooms are often wet and have tiles which play an important role when it comes to choosing the right paint. Some manufacturers sell paint that comes with mold-inhibiting agents that can be applied to moisture-laden surfaces. These will cost you extra, of course, but you won't have to worry about messing things up as much as if you had bought an ordinary can of paint. The bathroom is one place where you should never compromise on the quality of the paint.
Different areas of your bathroom would require different types of paint. Higher gloss paint would be ideal for drywall sections. Dry areas should be painted with satin or eggshell sheens as flat sheens may cause streaks of water which will end up looking quite ugly after all your hard work. By buying the right type of paints and high-quality ones, you will be able to save up on a considerable amount of time and prevent major reworks. You can find an article on the subject "What Kind of Paint is Best for the Bathroom" by clicking on this link, but definitely recommendable paints are Behr Marquee or Sherwin-Williams Emerald.
Prepping the bathroom to reduce overall effort and time
To avoid wasting paint, you have to ensure that the bathroom is as dry and clean as possible. Soap remnants, dust and other undesirable materials can cause a variety of issues when you are painting. The last thing you need is to spend hours painting the bathroom only to find out that the paint is peeling in different places. Other rooms require you to only do some light dusting before any paintwork but unfortunately, bathrooms pose more complicated challenges and must be cleaned thoroughly.
Some products are available such as TSP that can easily and effectively remove the undesirable matter from your bathroom but they will be expensive. So you do need to be prepared to splurge a little when it comes to painting your bathroom.
Removing obstacles for painting more quickly
This applies to other rooms as well but as the bathroom will always be smaller comparatively, you will have very little space to work with. Unless you have a very cramped bathroom, the only major obstacle in your path will be the flush tank. Painting around it is quite complicated and it almost always looks incomplete. Instead of spending an hour carefully marking the area around it and painting carefully, you can just remove it for the time being and get to work.
It may sound like more work but it will save you a lot of time. All you have to do is shut down the water supply temporarily and flush the water currently in the tank to empty it. Then you can safely remove the tank and get started with painting behind it. If you have a designer toilet or one that comes in a single piece, then you will have no choice but to paint around it.
Preventing potential rework
Every bathroom might be different but there are always a few common features. All bathrooms have certain areas where you don't have to apply paint at all such as the ceiling, bathtub (if you have one), tiles and so on. Before painting, you need to make sure that all these areas are safely covered and protected from any accidental splatter. This will ensure that you don't need to spend extra time or money on removing spots and streaks.
One inexpensive way to do so is to make use of any unwanted clothes or rags you have lying around. This way, you can safely paint your bathroom without worrying too much about spoiling the other areas. Another thing you can do is to spread a plastic sheet across the floor and other spots. However, if you do so, do make sure that the sheet is properly secured. You don't want to have it move as you walk on top of it or accidentally trip on it.
Choosing the right tools
Painting with a brush is quite romanticized in popular culture but it's not ideal for various applications. A brush is handy to use when you have only a small amount of space to paint or for intricate surfaces. For painting your bathroom, you should not even contemplate using a brush as it will take a lot more time and effort. A roller would be the ideal choice when it comes to painting surfaces evenly and quickly. It is also far more relaxing on your hands and involves relatively less effort from your side when it comes to painting large surfaces.
In most cases, surfaces are painted in a "W" shape using the roller. Then the blank spaces are then filled with parallel strokes until that particular section is painted. Then you should continue working from the wet edge and move on to the next section and so forth. In terms of application, the roller allows you to have a more consistent coating of paint than a traditional brush.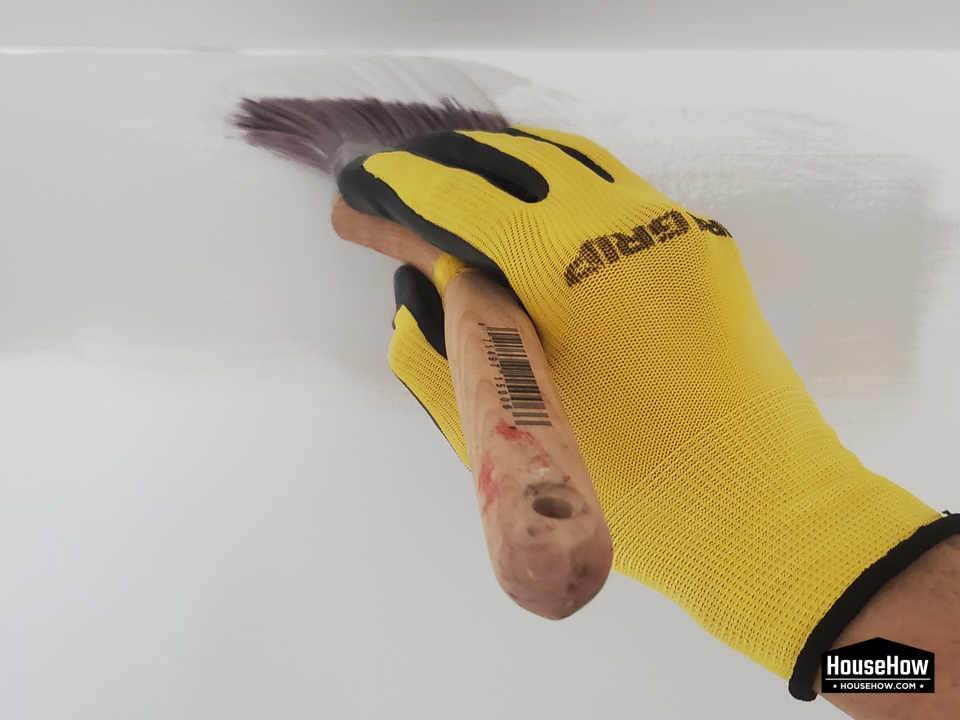 What are some of the useful tools to have to save time painting the bathroom?
Some of the tools that will help you to save time and effort are:
Paint roller
Paint brush
Adjustable extension pole
Paint tray
Hand-Held Pail
Tool kit with screwdrivers
Plastic sheets
Painting tape
The above tools all have their unique purpose and will help you to be better prepared for any issue or complication that may arise. Almost any professional painter will tell you that having the right equipment is the most important factor behind finishing a paint job quickly. Skill also matters of course but not at the same level as that of tools. If you further want to speed up the process, having a few extra hands is always helpful.
When considering the amount of time needed to paint a bathroom, you also have to account for the cleanup time that comes after. Otherwise, it may take longer than expected and may foil any plans you may have.
Related questions
How can I calculate the amount of paint I need for the bathroom?
When it comes to painting any surface, you don't want to fall short on paint or have too much leftover after painting. Luckily, there are ways in which you can approximately calculate the right amount of paint for your needs. The safest or most accurate way would be to use an online tool to do the job for you. Some tools take into account the shape of your room, the surface area to be covered and allows you to subtract any area that you don't want to touch. You can do the same thing manually but only if you are somewhat experienced with painting rooms.
How long should I wait before using the newly painted bathroom?
This depends on various factors but a good and easy way to gauge when the bathroom can be used is to check if its touch dry. If you put your finger on the surface and feel a solid skin, then you are good to go as the paint has dried properly. If it feels even a little bit wet or soft, then wait until it gets dried completely. Otherwise, you may end up getting bubbles or cracks in the paint.
On average, oil-based paints usually take up to 20 hours to dry but to be on the safe side, you can wait up to 48 hours to make sure the paint dries. If you live in a humid area with plenty of moisture, it would be wiser to wait for up to 72 hours. You will find a full article on this topic here.
What is curing time and why is it important?
When it comes to painting, you have the drying time and the curing time and both are important to know to ensure longevity. Latex-based paints are well known for drying very fast; however, it will be dry only on the surface. This is where the curing time comes in. Until the paint is cured, it is still vulnerable to damage, humidity and water. So even if any marks accidentally gets on the newly painted wall, wait for the curing time to be over before washing it off. It usually takes about 2 to 4 weeks for the paint to be cured depending on the amount of ventilation and humidity.
Related community topics
If you have any other questions that are not answered in this article, you can ask them on our Home Improvement Community Forum by clicking on this link.