They say that Rome wasn't built in a day and so is the case for your dream home. Whether you are building your home from scratch or remodeling it as per your wishes, you will come across some difficult questions that have no easy answers. One of those tricky questions is what kind of bathroom paint should you use? Which type of paint would be best for the bathroom interiors? Well, we have some critical information that might help you decide.
What type of paint should you use in bathroom? The bathroom is a room that can be very damp several times a day, so glossy sheen latex paints, such as "semi-gloss" or "eggshell", will be the best solution – thanks to its waterproof properties. Recommendable paints are "Behr Marquee Egg-Shell" (Homedepot) and "Sherwin-Williams Emerald Egg-Shell" (Sherwin-Williams).
What type of paint should I use in my bath?
That was a preliminary discussion for the type of paint you should use for your bathroom but the next question that comes to your mind is how to match your bathroom needs to the types of paints available in the market? Well we have categorized some types of paint here and specified their best features and uses so scroll through the paints here to select your own bathroom paint.
I used mold or mildew resistant paint as my bath paint recently and after seeing the results, this is definitely my top suggestion to everyone, specially if your bathroom is not very well ventilated. Not only is this paint is resistant like the shiny sheen paints but it also contains the necessary chemicals to resist microbial growth on the walls. This type of paint is first and foremost perfect for ceilings, where the little-shining paint is best suited and therefore more exposed to moisture and mold. This type of paint is unfortunately expensive. The cost of one gallon is about $50
The second option is flat paint. Flat is another term for matte finish paint which are good for your bathroom if you have good enough ventilation. Before using this paint you should also ensure that your bath has enough space so that the water drains out without splashing all over the walls. Generally water retention and dampness are the prime reason due to which people use more expensive paints like shiny ones or mildew resistant ones. We can already buy this type of paint for around $15, but I do not recommend doing it 🙂
The third option is definitely the shiny paint like an eggshell, semi-gloss or even gloss, which repel moisture. I have personally seen the performance of this type of paint in real life and I can safely say that they are characterized by exceptional resistance to water. Also the value for money is perfect here. A gallon of good paint of this type can already be purchased for around $20 It also looks great with tiles and other smooth décor. (If you are wondering whether you should paint the whole bathroom or put tiles on its part, this article will allow you to make the right decision).
After the in depth discussion of the above types of paint, you have a clearer idea now on where to look for the product that will be best suited to the needs of your bathroom. However there must be some questions on your mind and I have put forward some related Questions and Answers that you can scroll through for some more information.
What is the best type of paint for bathroom ceiling?
Choosing the right paint for your bathroom ceiling can be an issue as you have to choose something similar to the texture and also consider how well the paint is retained and also whether the paint can handle the possibility of water being sprayed on it or if the paint will wear out from it. Hence you can try the Behr Premium Ceiling Paint which is a stain-blocking paint with advanced performance to hide the imperfection in the wall and give it a smooth final finish and it can be tinted to obtain the light colors too.
Other great examples of bath paint are the Eminence high-quality ceiling paints which can provide a great finish to your ceiling in just one coat coverage. Its performance is just amazing with a very luminescent and a bright type of white finish. It is a true flat paint by nature and it hides any surface imperfections and new stains from forming or showing. The finished look is very pleasing to look at. Thus a bright or vibrant color combined with shades that match your interiors is preferred while choosing the paint type for your bathroom and it should have a good finish with anti-stain or hard to retain any kind of stains. Resistance to moisture is another added benefit as the environment is of a bathroom. These types of paints are best for the bathroom ceilings.
What is the best type of paint for bathroom walls?
The bathroom walls take the most damage and strain from our daily activities. The walls are often full of moisture and dirt (From dried shower and sink sprays) and this can damage a paint layer severely. So while trying to choose the correct type of paint for your bathroom, the walls and their needs is what you must consider first. So, what type of paint do you need for the walls? The first necessity of the paint is that it must be stain resistant and able to repel moisture successfully.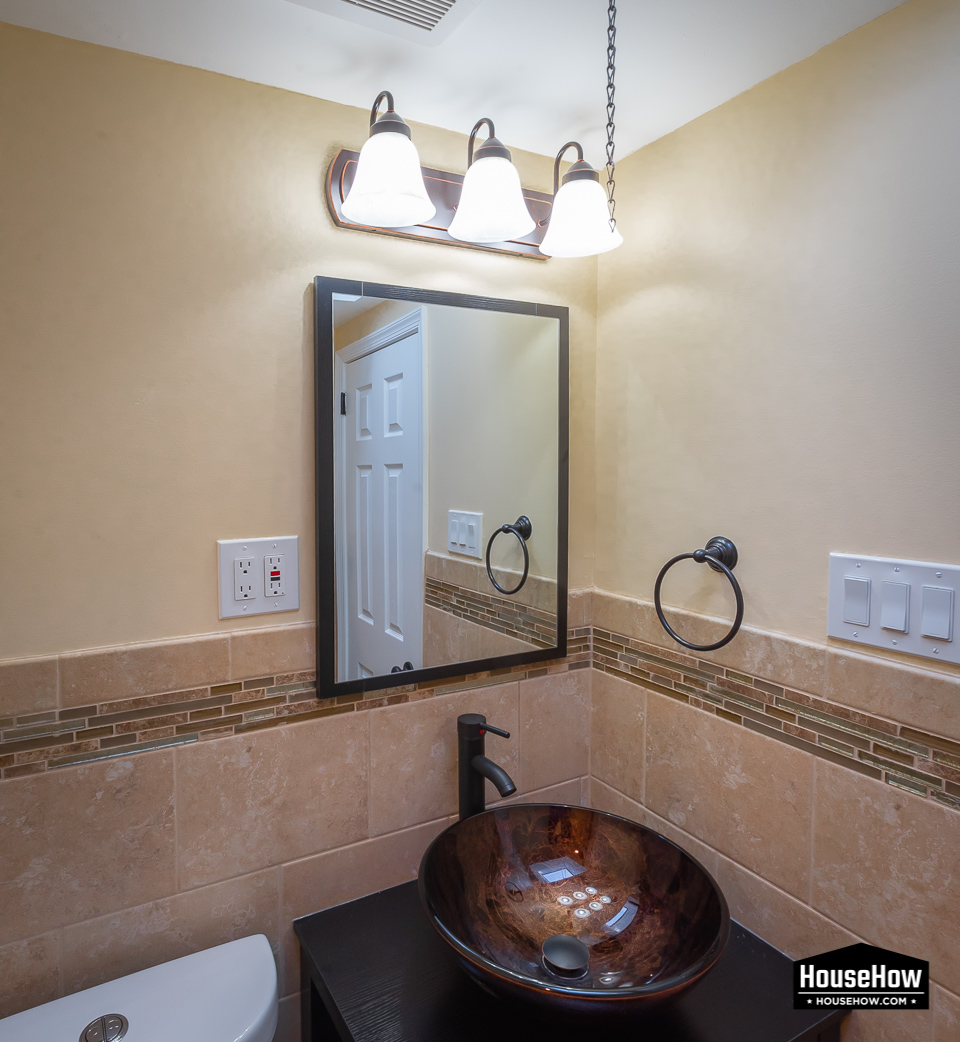 The shiny paints like eggshell finish have this capacity to repel moisture but even that is not enough sometimes. In spite of using moisture repellant paint, it is often observed that mildew and other organisms start to grow on the walls of your bathroom and this can severely damage the strength and finish of your walls. Moreover, it turns into a really unhygienic and sad scenario which is something you definitely don't want for your bathroom. Thus, I would suggest paints like the shades of Behr Marquee paint and primer. Another type of paint that can be used for this purpose is the mildew repellent version of the smooth paints.
Is flat paint OK for bathroom?
If you are considering flat paints for your bathroom and wondering if it is suitable for that purpose then the answer is that it is not actually. This is because flat paints can absorb a lot of the moisture from the bathroom environment which can be full of moisture but you can use the Behr Marquee Matte special interior colors which provide the guarantee of coating with just one color coat and giving a great finish to your walls. Bathroom walls also have a high probability of getting stained from time to time and thus stain proof paints are preferred over other ones. You can still use the Sherwin Williams Emerald paint and primers with advanced stain protection technology to safeguard your walls in case you do want to use any flat paint for your bathroom. They are long lasting and are extremely water resistant and also prevent spotting or staining which is a very important feature when you are looking for the type of paint for a bathroom.
The Sherwin Williams Emerald Flat has a finish with a good washable feature i.e. This particular paint has the advantage of giving you a flat finish and additionally also providing you some features like durability and burnish resistance combined with the washable nature that we previously discussed. This allows you to use flat paints without facing the problems that they usually bring to your moisture filled washroom. Another good feature about the flat colors is that they also help to hide the imperfections of the wall. Thus you can have a good balance between the color/finish and performance of this type of paint. So if you really want to use a flat paint variant then you should use the type of flat paint that we discussed above.
Related questions
Let us go through some FAQs (Frequently asked questions) that will further clarify the details in your mind.
Can you use bathroom paint in the bedroom?
Whenever you are working to build your dream home and trying to be economical about it, these types of questions do arise. To answer your question: Yes, you can use it as there is nothing special about the bathroom paint that needs to be used for the bathroom alone. The added features that are present in the above paints that I have suggested for your bathroom will not harm you or your family if they are used in the bedroom too. It's just about the quality of the paint and the colors whether it's eggshell finish or a glossy one and whether you are okay with using that in your bedroom. There are benefits for both as to what type of paint you would like to use for a bathroom wall or a bedroom decor. Light colors and stains are preferred for the bathroom. Due to the moist atmosphere of the bathroom, the paint is preferred to have a good water resistant property and also the stain resisting property in them.
Generally lighter shades of colors are chosen for the bathroom and it is fine to decorate your bedroom as you wish to. The eggshell finish paint colors are perfect for the bedroom and are liked especially by the toddlers. It also helps to keep the walls free of any stain which makes cleaning easier. The normal eggshell color has a little gloss with it when viewed perpendicularly and it easily washable. The dirt that accumulates with it easily comes off and hence can last long and these types of paint are ideal for rooms for toddlers or dining area.
Can kitchen paint be used in a bathroom?
Yes, you can use the same color for both of them as both of them are moisture resistant and are adaptable to the steam and moisture content of the environment. But kitchen paint has a slightly different formula than the bathroom paint to accommodate the grease and stains. Thus except this detail, you can use the same paint for both the rooms. Eggshells can be used as it can easily be scrubbed off and is easily washable which makes it ideal for this kind. Semi-gloss or satin is perfect for the kitchen as it can handle stuff like grease, soap and water stains on it. Same principle goes for the bathroom as it requires paint which is water resistant and stain resistant to fight the damages of the moisture in the bathrooms. Thus eggshells are slightly glossy but not as much as semi-gloss paint and the eggshell paint gets their color literally from the color of the eggshells with a slight bit of glaze on them.
Thus one can use both the kitchen and the bathroom paint interchangeably as both are suitable for the room with the kitchen paint being stronger as it is more resistant to foreign particles. On the plus side this also helps to keep your building or painting project economical.
What kind of paint do you use on bathroom cabinets?
Bathroom cabinets are a cause for dilemma for even professional painters. Because of the different types of materials used for making the cabinets it is difficult to choose the type of paint to cover it. The material, surface and design of the cabinet also matters. Another factor that needs to be considered is whether the material is susceptible to moisture and its damages or not. If you are looking for a one stop solution to be used on bathroom cabinets then the acrylic type of oil paint or the semi gloss based paints are the ideal type of paint that you would like to use on a bathroom cabinet. The cabinets need to be painted with moisture free paints which can be easily scrubbed or clean. For this purpose, the above mentioned type of paint is the best solution. The semi gloss finish paints help to keep your cabinets moisture resistant and free from dampness and its damages. If your bathroom is of a small size and your cabinets may face moisture regularly then this is the best solution that you can apply.
With this we come to the end of our discussion and I hope you got some cool information and helping tips from the article that can help you to choose the perfect type of bathroom paint for the home of your dreams.
How much does painting the small to middle size bathroom cost?
If you want to learn more about the costs of painting a bathroom and tiling, see this article.
| Paint Type: | Sheen Option: | Coat Required: | Price: |
| --- | --- | --- | --- |
| Behr Marquee | Eggshell | 1 | $42 |
| Behr Marquee | Satin | 1 | $44 |
| Behr Marquee | Semi-Gloss | 1 | $46 |
| Behr Ultra | Eggshell | 2 | $33 |
| Behr Ultra | Satin | 2 | $36 |
| Behr Ultra | Semi-Gloss | 2 | $37 |
| Behr Premium Plus | Eggshell | 2 | $28 |
| Behr Premium Plus | Satin | 2 | $31 |
| Behr Premium Plus | Semi-Gloss | 2 | $31 |
| Behr Premium Plus | High-Gloss | 2 | $33 |
| Sherwin-Williams Bath Paint | Satin | 2 | $67 |
| Sherwin-Williams Bath Paint | Semi-Gloss | 2 | $70 |
| Benjamin MooreAura Bath & Spa | Matte | 2 | $72 |
The price is only for wall paint. Prices from March 23, 2020. The price does not include the costs of tools, additional materials and taxes. All prices displayed are in U.S. Dollars.
Related community topics
If you have any other questions that are not answered in this article, you can ask them on our Home Improvement Community Forum by clicking on this link.
Header Photo © Sebastien Le Derout / Unsplash