Bathrooms require a renovation or remodeling after a certain time to make sure that the plumbing and fixtures are updated. With technology developing at a rapid pace, we can make our lives more convenient than ever before. Remodeling your bathroom also helps to make it more appealing, in case you ever want to sell your property in the future. In this article, we will consider the costs of bathroom renovation and remodeling.
How much does it cost to remodel a small bathroom? If you have a small 5×7 bathroom, then a rough approximate would be somewhere around $2500-$3000 for the materials and about $3000 to $5000 for the labor.
The cost of remodeling depends primarily on the size of the bathroom followed by the quality and type of materials you plan to use. If you proceed haphazardly when remodeling your bathroom, there is a very good chance that you go above your budget. Here we will take a look at the costs of renovation and remodeling a bathroom as well as the right way to plan and get it done.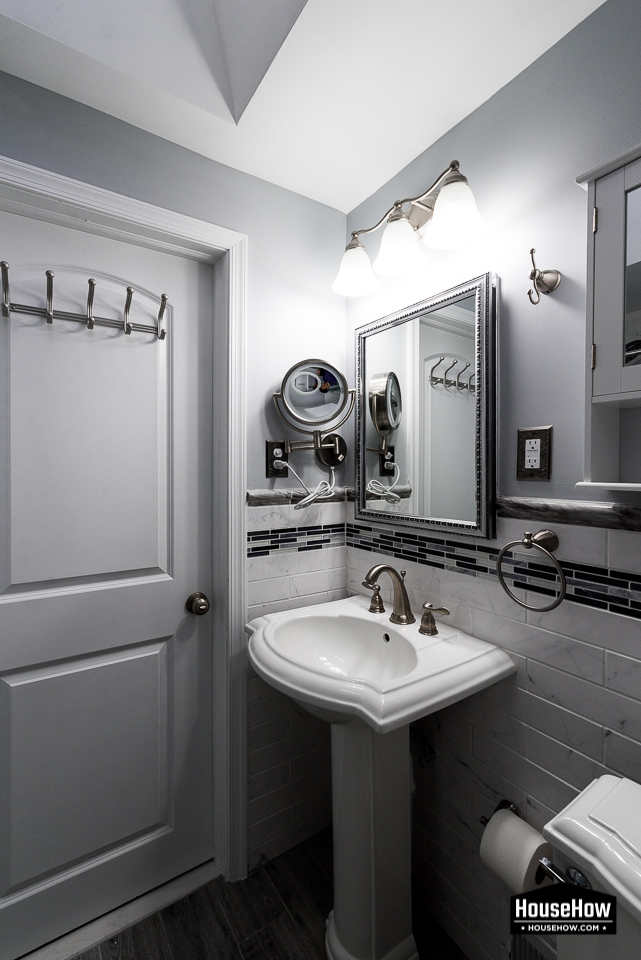 What is the difference between renovating and remodeling?
Although many people use the two terms interchangeably, it is important to know the difference between remodeling a room and renovating it. A renovating usually involves changing the appearance of a room with a few changes in fixtures here and there. A remodeling, on the other hand, means you plan to fully change and update everything. Luckily when it comes to small bathrooms, you can install high-end finished at an affordable rate as the cost increases per square footage. So, you can make a small bathroom look amazing at a far lesser price than doing the same for a big bathroom.
How much does it cost to remodel a small bathroom?
The national average cost of renovating a small bathroom is about $6,500 but it may go as low as $1,500 or as high as $15,000 based on different factors such as size, materials, type of fixtures and more. If you are looking to remodel everything, then $70 per square footage is a reasonable amount of money you should be expecting to spend as long as you go with low-end fixtures. If you want the latest high-end fixtures, then be prepared to shell out $250 per square footage. Do note that the labor cost will vary based on the location too as some places are more expensive than others.
Most small bathrooms come under 40 square feet area in total. So, if you plan to remodel your bathroom, then you may be looking at $3000 for the materials and a labor cost of around $100 per square foot. Here is a rough approximate of the cost you may incur based on the type of fixtures you plan to add.
| | Minimum Cost | Maximum Cost |
| --- | --- | --- |
| Plumbing | $150 | $400 |
| Electrical | $100 | $300 |
| Drywall | $150 | $200 |
| Door | $70 | $150 |
| Tiles & Tiling Materials | $500 | $900 |
| Bathtub | $150 | $900 |
| Toilet | $90 | $500 |
| Faucets (Shower & Sink) | $150 | $500 |
| Lighting | $50 | $400 |
| Vanity Cabinet | $120 | $700 |
| Countertop | $0 (can be part of vanity) | $800 |
| Shower Door | $150 | $950 |
| Mirror or Medicine Cabinet | $45 | $300 |
| Painting Materials | $150 | $400 |
| Garbage Removal | $0 | $500 |
| Labour | $2500 | $5000 |
The table shows the approximate minimum and maximum costs of some bathroom components. It is very difficult to renovate a bathroom using only the cheapest components.
How much do materials cost?
There are many factors to consider when looking at materials to buy for remodeling your bathroom. Floors and ceramic tiles may be more expensive overall but in a small space, the cost of these materials versus vinyl flooring won't be much. So you can choose either of them and still come under your budget. The only thing you have to keep in mind is to never skimp on quality. Whether a material is priced reasonably or exorbitantly, always look for the best quality one in your price range.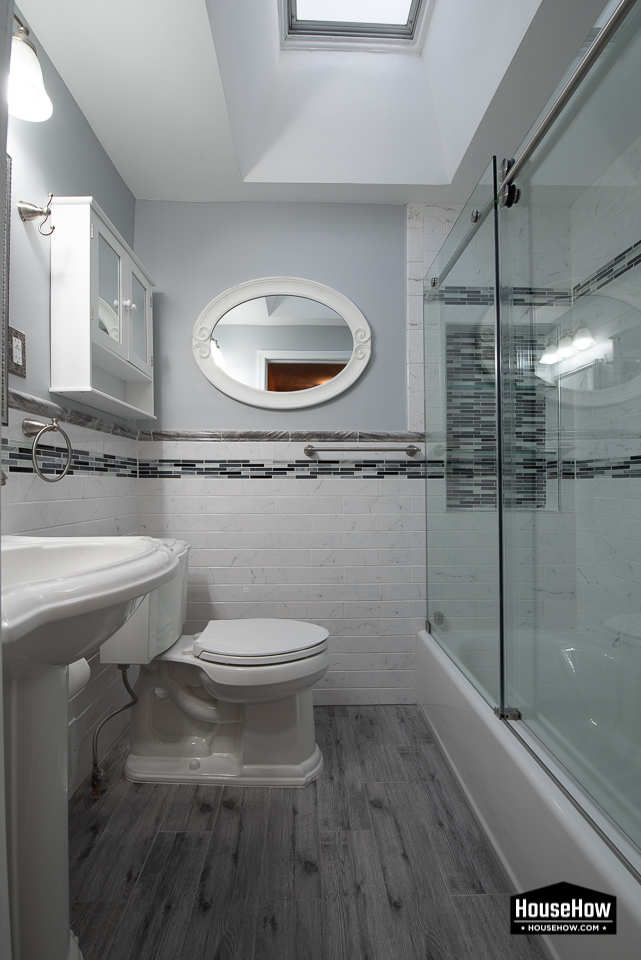 How much does it cost to renovate a small bathroom?
Based on your budget, you can choose to either do smaller but meaningful changes or you can go all out and change everything. Like everything else, bathroom renovation is all about problem-solving. If you have a tight budget but still want to make an impactful change for your bathroom, then there are ways to do so. Do note that if you plan to reinstall tiles, then you may have to waterproof the floor all over again which will increase your costs. Instead, focus on whether you want functionality or increased aesthetic appeal in your bathroom and find out the most affordable way to do so.
Never underestimate the difference a small change in lighting or a new splash of paint can make in your bathroom. It may not be necessary to spend money on fixtures and such if all you need is a cosmetic do-over. In some cases, laying down new tiles will do the job whereas, in others, a new bathtub or a walk-in shower may need to be installed. Whatever the case, you need to break down your vision into smaller parts and see how much value you will get. Let's take a look at the costs of renovating your bathroom based on different aspects such as:
Tiles – The cost will be around $5 to $8 per square foot, so for a small 5×7 bathroom, expect anywhere from $200 to $800.
Painting – You can expect the total cost to be around $100 to $400.
Lighting – Updating all your lighting fixtures by installing new ones may range from as low as $50 to as high as $400.
Toilet – Installing a brand new toilet may cost you $90 to $500. It may be even higher if you want to go for high-end models with unique features.
Vanity cabinet – The cost will be around $120 to $700
Glass shower door– Installing a fully enclosed glass shower will cost $150 to $950 but it will look a lot better than having a shower curtain.
Different types of bathrooms and renovations
One of the main purposes of remodeling is to add convenience and/or functionality. The cost will vary based on the type of remodeling you are planning to go in for and the size of the bathroom. Here are the various types of remodeling:
Powder room – A powder room remodel would consist of a half bathroom made for guest use. It won't have any shower or bathtub and will only have a sink and a toilet. This requires minimal plumbing and electrical work, which means the overall cost will be low. If you do it yourself, you can expect it to cost around $700 in total. If you hire a professional, the cost may go as high as $1,500.
Guest bathroom – This one will be more expensive than a powder room remodel as guest bathrooms are usually larger and will consist of a full bath or shower. In this case, you should expect to pay around $5000 for the entire work.
Kids bathroom – Here, the main purpose is functionality and so there is no need to go for high-end fixtures with unique features. If you are going in for fully tiled flooring, a shower and a toilet, then the cost may range from $100 to $150 per square foot.
Master bathroom – This is where you can go experiment, provided the size and layout allow you to do so. Remodeling it completely may involve moving walls as well as installing new plumbing and electrical fixtures. The average cost of remodeling a master bathroom will be around $200 to $250 per square foot.
Bathroom remodeling and increase in home value
With a full remodel, you can expect to recoup about 66 percent of the total cost incurred as your property value will also increase accordingly. Homes that have updated or remodeled rooms sell faster than homes that have decade-old layouts and fixtures. However, this doesn't mean that by installing high-end fixtures, you can get your property price up instantly. Whatever change you make in your bathroom should make sense and must add some sort of convenience, utility, or aesthetic appeal.
What is the cheapest way to renovate or remodel a small bathroom?
The most affordable way to remodel a small bathroom is to do it yourself. This reduces your cost significantly more than any other way. Apart from doing all the work yourself, there are a few things you can consider to get the total cost even lower. They are:
Limiting the number of tiles – Tiling your floor becomes significantly expensive based on the size of the bathroom and if you hire a professional to do it. A smart way to keep costs low would be to limit the number of tiles you will need. So, you can focus on important areas such as the floor and shower area while opting to paint the rest of the area.
Imperfect countertops – Everyone loves having a marble or granite countertop in the bathroom because it not only looks good but is relatively affordable as well when compared to kitchens. There are two ways in which you can save money here. The first would be to select a non-popular color as there is a considerable difference between the prices of popular colors and other tones. The second option is to buy a slab that has small imperfections. Of course, the cheapest option is to simply install a vanity cabinet with a ceramic sink.
Repainting – Before you change a lot of things in your bathroom, consider if repainting it will make the bathroom look and feel new for you. If it does, you can save a lot of money and improve the aesthetic appeal of your bathroom at the same time. Do note that painting a bathroom requires more time and patience since there will be a lot of difficult areas.
Updating fixtures – If repainting the bathroom isn't be enough to make it feel new, consider updating your fixtures along with it. Maybe, the new paint along with new fixtures will be enough to update your bathroom. Avoid going for high-end fixtures though and instead focus on good quality low-end or medium range fixtures.
Redoing the shower or tub – Instead of getting a new tub or shower installed, see if you can refinish them instead. Unlike sink or shower fixtures, the cost of refinishing a tub or shower will always be less expensive than changing it completely. You can either hire a professional or do it yourself with a DIY refinishing kit for even less money.
Apart from the above, also look into greener options because they help you to save money in the long term. For instance, toilet, faucet and shower heads that save water may come with a higher cost in the beginning but in the long term, they will save you some money. You will also be helping the environment in doing so.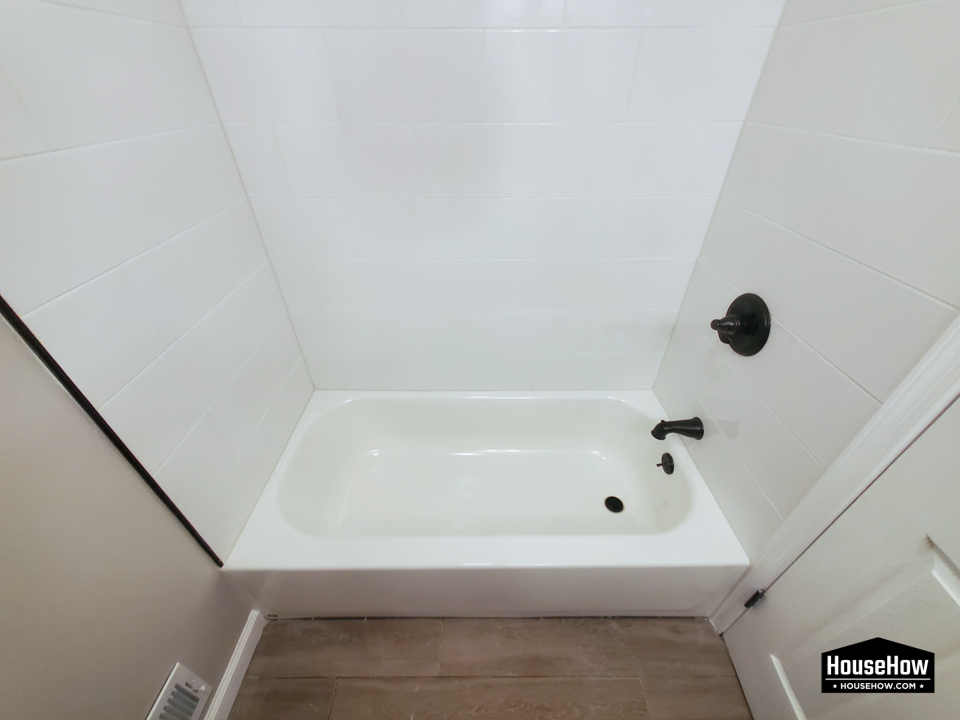 How to renovate quickly to save money?
Time is money when renovating a bathroom. While it's extremely difficult to have a bathroom remodeling project done in time, there are a few ways in which you can plan for unexpected delays and calculate a more realistic time frame.
Ask yourself whether you want to do a cosmetic renovation or a complete remodel from scratch. The former takes up less time while the latter will always take a lot of time. There are ways to reduce the time when it comes to a cosmetic renovation. A remodel, on the other hand, will almost always take up more time than you planned for.
Decide if you want to do the work yourself or if you want to hire a professional. In most cases, hiring a professional will always take less time because they can dedicate long hours every day to get the work done. Even if you have amazing skills, you will still have to work in your free time and so the project will take up more time overall.
Hiring one or multiple professionals can also make a big difference in the amount of time spent on a remodeling project. Those who are adept at multiple professions tend to take more time since they have to take on a lot of work. Doing this will also be cheaper and faster. Hiring multiple professionals, on the other hand, may cost more and even though they'll get their part of the work done quickly, the time to sync all the work will make it take longer.
When you are calculating the total time needed for your remodeling project, always do it from the start of construction. So you must have all the materials either ready or on the way before you get the work started. A lot of remodeling projects miss their deadlines due to materials not arriving on time.
Consider whether you want to remodel the bathroom with permits. Permits significantly extend the time and cost of each project. You can read more about it here: "What Happens When You Remodel House Without a Permit?"
The best way to get an accurate or close to accurate estimate for your remodeling project is to hire a competent contractor who has worked on one of your close friend's houses. Personally recommended professionals tend to work more efficiently and quickly because they are great at what they do. Mouth-to-mouth marketing exists only because of trust and a certain standard of quality after all.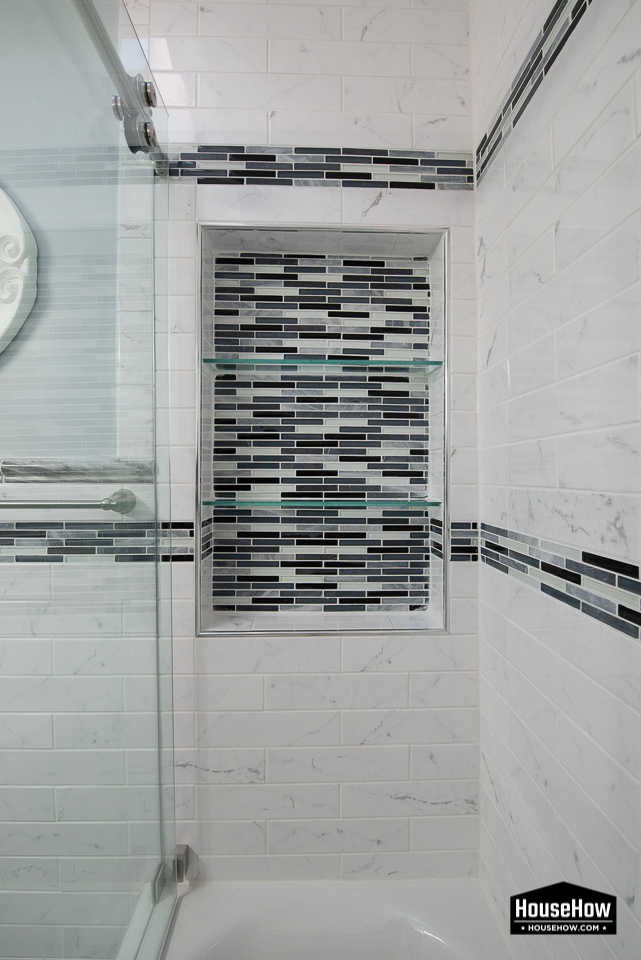 Related questions
What is the most expensive part of a bathroom remodel?
When remodeling a bathroom, it is important to note that no two things will ever cost the same. Mirrors, showers, bathtubs and lighting fixtures come at a wide variety of prices. So it's a little difficult to plan a budget and stick to it without making compromises.
More than the materials, it is the labor costs that end up being the most expensive part of a bathroom remodel. Per hour you may have to spend $30 to $80 or higher which can add up to a hefty amount by the end. This is both a good and bad thing. It is good because it means that if you can do it yourself, you can save a lot of money. However, if you don't have a lot of experience with remodeling or renovating your home, then you will have to hire professionals and pay the labor costs.
How long does a bathroom remodel take?
The time taken to finish remodeling will depend on the size of the room. For a small bathroom, it may take up to 10 days or more if everything goes smoothly. Taking into account that no work will be done on weekends, you will be looking at a total of 5 to 7 weeks overall. If there are unexpected issues during the remodeling, it may take up to 8 or 10 weeks depending on the circumstances.
If it's a big bathroom and you intend to change a lot of things, it may take even longer. It's very difficult to gauge the exact time that will be spent as are there are too many variables that can throw your plans out of the window. So it would be wise to always have a buffer time when creating the plan.
Can you renovate a bathroom by yourself?
Yes, you can, provided you have the expertise to do so. Do keep in mind that a complete remodeling may involve plumbing and electrical work too. So if you don't have the experience, it would be better to hire a professional. Do remember that whatever change you make to your bathroom, you will be the one who has to live with it.
A complete bathroom remodeling will also take a lot of time, so if you have a family and a job, the work may take even longer if you can work on it only in your free time. If you have the ability, time and skills, then you can do everything or most of it yourself and save a lot of money too. However, if you don't have the proper experience, it would be wise to leave it to professionals.
How much does it cost to remodel a 5×7 and a 5×8 bathroom?
A 5×7 bathroom is a common layout seen in most homes all over the world. When it comes to remodeling our bathroom, the cost may go high or low depending on the type of fixtures you want to install and the layout. On average, it would cost about $180 per square foot and a 5×7 bathroom would cost up to $6500 in total. So for a 5×8 bathroom, it might cost you up to $7000 or more.
Do keep in mind that for the above costs, you won't be using low-end or high-end fixtures. So the quality and price will fall somewhere in between both. Labor costs don't fluctuate as much unless you live in a very posh area and so it's the cost of materials you need to look at if you want to save money.
In what order should I remodel my bathroom?
The first thing you need to do is remove the existing fixtures you want to replace. If you want to replace tiles, drywall, bathtubs, etc., you also need to remove them. This phase is called a "demo".
As everything is now removed, new plumbing and new wiring can be made. Then we install new drywall and concrete board in places where we will install tiles. The next step is, of course, the installation of the tiles and their grouting, after which we can paint the walls of our new bathroom. Now it's time to install new fixtures, shower door, toilet etc.
Of course, all these steps have been presented very selectively and there are many more, but this is a topic for a separate article.
If you have any other questions that are not answered in this article, you can ask them on our Home Improvement Community Forum by clicking on this link.