Painting your house isn't as simple as it sounds. There are a lot of things that need to be considered while planning your house painting project. One of the first things to calculate is the amount of paint you'll need to cover your areas. In this article, we will specifically talk about painting a small bathroom, how much paint you'll need, what type of paint should you use along with a detailed painting guide as a bonus. So, without any further ado, let's begin!
How much paint do you need to paint a small bathroom? You need 2 to 3 types of paints for painting a small bath. You'll need about 1 quarter of white flat paint for ceiling. For the walls, you'll need about gallon of medium-quality paint or 1 quarter of a high-quality, one-coat guarantee. Finally, you will require about a quarter of semi-gloss paint for doors and trims.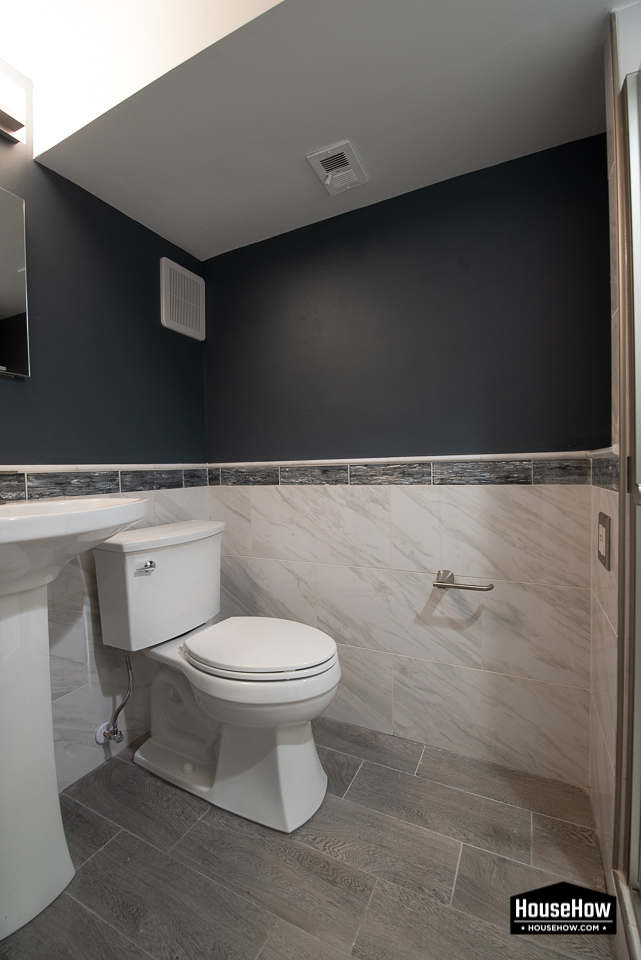 How do I calculate how much paint I need?
Generally, it takes about 2 coats to cover a bathroom unless you buy a high-quality single coat paint. In the latter condition, ¼ gallon should be enough.
Here is a great way to calculate the amount of paint you will need for your house :
Tip 1: One gallon of paint is enough for covering around 400 feet, which is adequate for painting a small bathroom or any other small room.
Tip 2: About 2 gallons of paint can cover around 800 sq ft of area, which is enough for painting average sized rooms. This is the amount of paint you'll need considering double coats.
Tip 3: Three gallons of paint can cover around 1200 sq ft, which is enough for covering large rooms or adjoining areas. This amount is enough if your areas are having vaulted ceilings.
Tip 4: Finally, you'll need around 4 gallons of paint to cover around 1600 sq feet. This amount is enough for painting multiple average sized rooms. You can consider buying this much paint if you have large rooms, family rooms or hallways.
Will a quarter of paint cover a small bathroom?
As you may already know, bathroom paint is not like the ordinary house paint. This is because bathrooms are wet areas and are exposed to issues like mold and mildew. So, bathroom paints are designed especially for the moisture and wet areas. If you buy the bathroom specific, high-quality paint with a single-coat guarantee, then yes, one quarter will be enough for painting a small bathroom but I personally recommend getting a gallon of paint and painting your bathroom in two coats.
Do you need a special paint for the bathroom?
If you've been planning to paint your bathroom, you might have come across the references to a special category of paint known as the "bathroom paint". You might think that it is different from your ordinary house paint, but that's not entirely true.
In reality, there is nothing like "bathroom-specific paints". However, there are paints that are specially designed for better performance in wet areas.
As we already discussed, bathrooms are subjected to moisture almost all the time and hence, there are certain things you should keep in mind while buying the paint for your bathrooms. Here we are discussing some points that you should look for in the paints for bathrooms :
Mold and mildew resistant properties: Bathroom paint generally comes with an anti-microbial additive which resists mold and mildew. Although it doesn't guarantee complete prevention, it does its best to prevent these issues.
Should be washable: It's a no brainer that the walls of a bathroom needs to be wiped and cleaned occasionally. Sometimes you might even need to scrub down your walls to remove the tough stains. Hence, the paint should be such that it withstands all these conditions. Bathroom paints in general are slightly more tough than the house paints.
Should exhibit a tighter structure: Look for the paints that have a tight structure so that it can withstand the high-moisture of the environment.
If you need more information about bathroom paints, I sincerely recommend this article: "What Kind of Paint is Best for the Bathroom"
How to paint a bathroom using as less paint as possible?
Want to reduce the overall painting cost? Here are some tips using which you can paint more with as less paint as possible!
Using roller
Roller is the best when it comes to the painting tools. It not only reduces the painting time but also helps you in achieving an even and smooth finish. A roller is ideal for walls and other flat surfaces but if you don't use it correctly, you can end up wasting a lot of paint. Here are some tips to paint with less product using a roller :
Spray your roller with some water to settle down the fuzz and to prevent excessive paint absorption.
Fill your roller tray only one-third and then lightly dip the roller and then roll it on the textured part of the paint tray. This will remove the excess of paint and you'll not see any bleeding of paint as well.
Work with the roller using light strokes depending on the type of surface. If you want to paint a wall or any other flat surface, work with natural gravity, that means work in upward strokes to get an even application and prevent bleeding.
A general rule of thumb is, work is W shape to prevent overlap and dripping. For painting the flat surfaces, work back and forth.
Rollers are not ideal for tight edges and corners and if you still try to use a roller in such areas, you'll end up wasting a lot of paint. So, it's better to switch to a small brush for tight areas.
In general, the use of a small thin roller significantly saves paint.
Using brush
Once you have taped the areas that you don't want to paint, use a small cutting brush to paint the compact areas a roller can't reach, for example, corners, window frames and behind/underneath sinks.
Use a shallow container to dip your brush in. A good idea is to transfer the paint into a used container halfway, so that you don't end up splashing the paint.
Don't dip more than 1in of your brush into the paint. It will not only reduce the chances of spill, but also allows you to paint more with less paint.
Instead of scraping the brush, tap it on the side of the paint container to get rid of extra paint. This will make sure you have an adequate amount of paint every time.
To paint the trims, around the sink, pipes and electrical fittings, use a small cutting-in brush with fine bristles. It will prevent bleeding and will allow sharp and accurate lines.
Other tips to paint with less product
Use a good quality, expensive paint. If you use cheap paint, you'll need to apply at least 2-3 coats to get an even application which will take a lot of time as well as money. So, purchase a top quality, single-coat guarantee paint like stain paint. This will save your time and you'll be able to paint with less paint.
Make sure to squeeze the rollers using a squeegee. You'll be amazed to see how much paint a roller absorbs.
Measure your walls accurately before painting. This will help you in determining the total amount of paint you will require.
Don't throw away the old paint. Consider using it before purchasing a new container. Stir the old paint nicely to see if it can be used. If it's smelly then throw it otherwise use it.
Pour the paint very carefully and save the leftover paint to use it further. A good idea is to label the paint container with the date of purchase.
Generally, the lids of paint containers have a lot of paint on them which most of us throw away. Clean the lids nicely and use the paint.
Avoid throwing the paint that got some dirt particles. Instead, use a strainer to strain it and use it.
Related questions
How many sq ft does a 1 gallon of paint cover?
One gallon plant can cover around 400 feet of area which is enough for painting small rooms like bathrooms and storerooms.
How much does a 1 quart of paint cover?
It depends entirely on the type of paint. If the paint you're using is of top-quality, you can paint your entire bathroom walls with it. However, if you're using ordinary paint, you will need to use about gallon of it.
Conclusion
That's all about it. We have discussed how much paint you need for painting a small bathroom, how to select the right paint along with some useful tips to paint using a minimum product. Follow the tips and tricks given above and you'll surely be able to save a lot of time and money and also help you in achieving a smooth and even finish.
Related community topics
If you have any other questions that are not answered in this article, you can ask them on our Home Improvement Community Forum by clicking on this link.
We hope my intensive guide helps you!