Although drywall installation may be relatively easy compared to others jobs, estimating the correct amount of materials and costs can get a bit complex. You can return whichever items come extra but it will cost you time and effort which is invaluable when it comes to construction.
How estimating materials for a drywall project? The simplest method is to measure the surface of the walls, multiplying their height by the length and the sum of their areas. Next divide by the area of a single sheedrock – 32sf. Then add about 5% of waste to that. For example (1000+1000+1200sf)÷32sf=100 100×5%=105 sheetrocks
While that may sound simple at first, when you get down to it, it can get quite complicated. Calculating the number of drywall sheets itself can be complex, let alone all the other materials required. However, by following the below process, you will be able to get an approximate estimation of everything you need based on your specific requirement.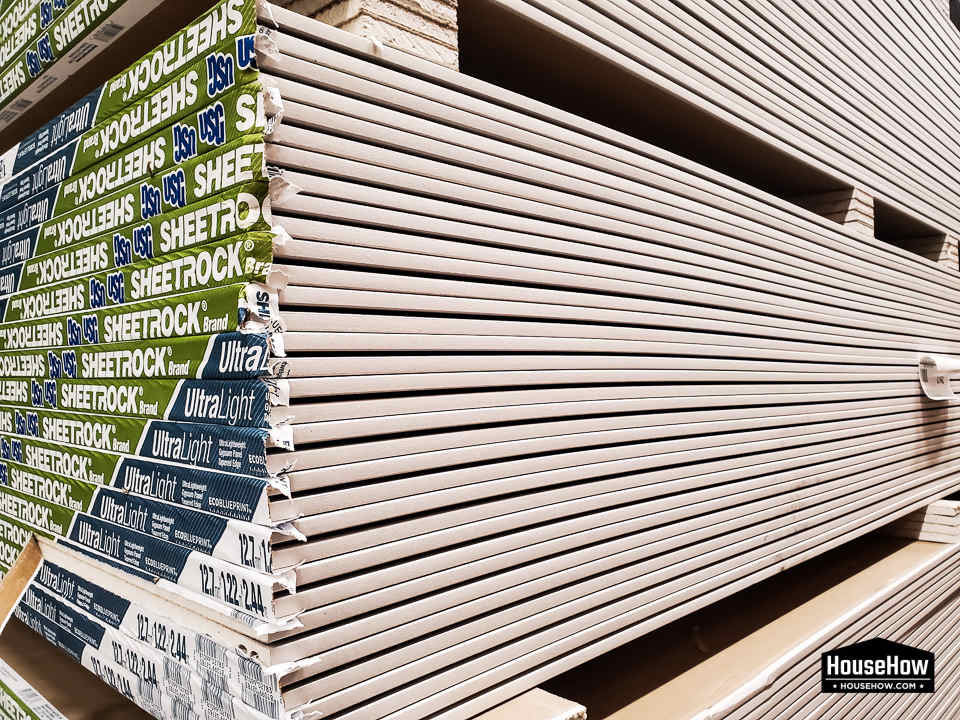 How to estimate drywall sheets for normal walls?
To approximately estimate the number of drywall sheets, you can do the following:
First, multiply the length and height of one wall. Here you can exclude windows and doors as their sizes anyway have to be subtracted from the total area.
Then do the same for all walls. Make sure you measure the side of the wall which needs to be covered.
Now you multiply the length of the wall with the width of the ceiling. To measure the ceiling area, just measure the floor underneath.
Add the wall and ceiling areas to get the total number of square feet you need to cover.
Once you get the total number, divide it by the square feet of the drywall sheet. Round up to the next number and that should be the number of drywall sheets required to complete your project.
The above step might seem a bit confusing, so here is a way to gauge the square foot area of different drywall sheet sizes.
4×8 sheet size = 32 square feet
4×9 sheet size = 36 square feet
4×10 sheet size = 40 square feet
4×12 sheet size = 48 square feet
4×16 sheet size = 64 square feet
With the above information, you should be able to easily divide the number you get by the square feet of each sheet and get the number of sheets required. If your walls are complex in design, do split it into smaller sections and calculate them separately before adding them together. The chances of this will be quite rare as it would require something like a safe installed in a wall to be relevant to the point above. As a general rule of thumb, always buy at least two extra sheets in case something goes wrong.
How to calculate drywall sheets for angled walls?
Calculating the number of sheets for angled walls might seem complex at first but it's quite simple.
First, you need to measure the height of the room.
Then measure the length of the room along its base.
Multiply both numbers and divide by 2.
The sloping section can be trimmed when installing the drywall, so you don't have to worry about it when doing the measurements.
How to determine the size and thickness of drywall sheets?
Size – Before you can plan on the budget for doing a drywall project, you need to have a better understanding of the size and thickness of sheetrock sheets. Most of these sheets come with a width of 4 feet, although you can find ones that come smaller and bigger too. Here are some of the sizes drywall sheets come in.

2 x 2 feet (used for repair work)
4 x 8 feet (most popular)
4 x 9 feet (apparently such exist)
4 x 10 feet
4 x 12 feet (used on commercial jobs)
4 x 14 feet (used on commercial jobs)
4 x 16 feet (used on commercial jobs)
Out of all the above sizes, the 4×8 feet size is the one that is most commonly used as it is sufficient for most interior works. It's short enough to make it easy to work with while being big enough to cover areas in most rooms. Depending on your calculations, you can choose from any of the above sizes when it comes to installation. It is important to note that large sizes are considerably more difficult to handle. So do keep that in mind if you are planning to do the installation yourself.
Thickness – Thickness is also important to consider when trying to estimate materials needed for a drywall project. Similar to sizes, drywall sheets also come with varying thickness. However, 1/2″ is considered to be the ideal one for most cases as they are easy to carry yet thick enough to be used in the wall. Apart from the above, drywall sheets also comes with a thickness of 1/4″ and 5/8″ where the latter is used predominantly on ceilings and walls as fire-code drywall.
Why are size and thickness of the drywall sheet important?
Estimating materials required for a drywall project is done not only to understand the scope of the work but also to fix a budget and create a work plan. The size and thickness of drywall sheets play an important role here as it directly correlates with your budget and the intended design.
Drywall sheets that are too long will cost you less but they are significantly harder to install.
If the drywall sheet is bigger than what you require, they might not fit in confined spaces which in turn will lead to higher costs.
Bigger sheets will also be heavier and therefore will be more difficult when it comes to transportation. HomeDepot and Lowes may deliver drywall materials but they won't come to pick them up. That will be up to you which means it's going to cost you money.
The thicker the sheet, the more difficult it is to install it. Hence the cost will again go up.
More dense sheets will also straight-up cost more which may ruin the budget you have planned.
Thicker drywall sheets also reduce the space in the room after installation and so would be unwise to use unless you are ok with it.
Once you have an approximate estimate of the area you need to cover and the specifications, it is very important to buy the right type of drywall especially when it comes to size and thickness. You should also check out the building code in your area as it will determine the size and thickness of the drywall sheet you need to use in specific areas. For instance, ceilings often require thicker and fire-resistant drywall sheets in most areas. Never start any calculations without checking your local building code.
Determining the type of drywall to be used in your project
Drywall sheets come in many different types, each unique from one another in terms of features and basic functionality. The most commonly used one is whiteboard which usually comes with a thickness of 1/2″. Greenboard is known for its relatively higher water resistance and is ideal for areas that might see a little bit of moisture from time to time. If the area in your project will see a lot of moisture, then a blueboard is the one to go for as they resist both moisture and mold. If its fire resistance you are looking for, then the X Type drywall is the one to use. To gauge the type of drywall to use for your project, it will always be wise to consult with an expert so you don't end up installing the wrong type of drywall and wasting money in the long run. More information about the green sheetrock can be found in this article: "What is the Difference Between Green and White Drywall?"
Calculating drywall joint compound and other materials
This is relatively simpler than calculating the number of drywall sheets you require. You don't have to worry much about wastage either as most of these items will be small and easy to store for future use. When it comes to drywall mud or joint compound, the general rule of thumb is to use 0.05 lbs. per square foot of the area you have to work on.
This is different from estimating the amount of drywall mud per sheetrock sheet. The approximate amount of joint compound needed per 4×8 feet drywall sheet is somewhere around 1.5lbs. to 2lbs. Do note that this is just an approximation and won't be completely accurate. The amount will change based on different factors such as the type of drywall sheet used, the type of drywall mud and the amount of water used.
Drywall screws are also essential materials required for construction. These drywall screws are sold by the pound and a single pound would be enough to cover approximately 500 square feet of drywall. When it comes to tape, a $6 pack will cover about 150 feet. Overall, try to spend somewhere around $0.30 per square foot of drywall and you should be good to go.
Ways to reduce and estimate potential drywall sheet wastage
Sometimes due to complex layouts, you might end up with more drywall sheets than you require. The two main reasons that lead to drywall sheet wastage are incorrect measurements of the layout and improper cutting of the doorway, window and outlet sections. This issue happens mostly when you try to do the installation yourself and very rarely when you hire drywall installers. Although you should always buy a few extra sheets after calculating the work area, you should always try to measure the dimensions as accurately as possible.
One way you can do that is to do the calculation a few times from scratch to make sure that the numbers are proper. On top of that, you can also use an online tool to do the calculation to see if their numbers match yours. If you do that and find some discrepancies in the final numbers, then you need to review the calculation from both sources. Sometimes the online tool might calculate it differently, so always keep an eye out for that. Some sites offer a free consultation for estimates which you can take up to figure out the right number of materials you require.
Table of materials needed for drywall projects
If you need to calculate the amount of materials needed for your drywall project, use the table below using the wall area as a guide. If your drywall project has more than 2400sf for example 3600sf use the values 2000 + 1600sf to get the required values.
WALL AREA (in square feet)
DRYWALL PANELS
JOINT COMPOUND
JOINT TAPE (in feet)
DRYWALL SCREWS
4' × 8'
4' × 10'
4' × 12'
PRE-MIXED (in gallons)
NOT-MIXED (in pounds)
100
4
3
3
1
5
35
125
200
7
5
5
2
10
70
250
300
10
8
7
3
15
105
375
400
13
10
9
4
20
140
500
500
16
13
11
6
26
175
625
600
19
15
13
6
26
210
750
700
22
18
15
7
32
245
875
800
25
20
17
8
38
280
1000
900
29
23
19
9
44
315
1125
1000
32
25
21
10
50
350
1250
1100
35
27
23
11
56
385
1375
1200
38
30
25
12
62
420
1500
1300
41
32
27
13
68
455
1625
1400
44
35
29
14
74
490
1750
1500
47
37
31
16
80
525
1875
1600
50
40
33
16
80
560
2000
1700
53
42
35
17
86
595
2125
1800
56
45
37
18
92
630
2250
1900
59
47
39
19
98
655
2375
2000
62
50
41
20
104
690
2500
2100
65
52
43
21
110
725
2625
2200
68
55
45
22
116
760
2750
2300
71
57
47
23
122
795
2875
2400
74
59
49
24
128
830
3000
Related questions
Why should I calculate the required materials myself for drywall projects?
There are two main reasons why you should always at least have a rough approximation regarding the materials you require for drywall projects. The first one is to ensure that you don't get ripped off by companies who might give you a larger quote just to increase their margins. While not all installation services do so, it's not worth taking the risk by just believing in their estimate. The other reason is that by doing it yourself, you will be able to understand the various processes involved in a drywall project. Over time, you will be able to reach a point where you can do it by yourself or with a few of your friends. The ability to make something with your bare hands is invaluable and will always be an important skill set to have.
What do I do after I buy more materials than required?
Buying more materials than required is usually something that ends up costing you time and effort. Ideally, this problem shouldn't occur if the correct estimation of materials was done. However, sometimes you might end up with extra materials even after doing so. It could be due to a few miscalculations or simply because you ordered extra materials as a precaution. No matter what the case, you should be able to return the items to the store as long as they weren't used. If any chance, the store doesn't take the items back (very rare), you can always find someone who needs it or store it for future use. If there is any other project you had in your mind for some time, you can also see if the extra materials can be used there.
How many drywall screws will I need per drywall sheet?
In most cases, you will need a screw for every 12 inches and 16 inches of the drywall sheet for 24-inch stud framing and 16-inch stud framing respectively. When it comes to the ceiling, you will need a screw for every 12 inches. The above estimate might change based on the size of the sheet as well as the spacing of the studs. The distance between screws and nails are also dependent on the building codes in different areas. So make sure you go over the one in your area before planning your budget.
Related community topics
If you have any other questions that are not answered in this article, you can ask them on our Home Improvement Community Forum by clicking on this link.