Drywall is a panel made out of various materials including calcium sulfate dehydrate and comes extruded between two sheets of thick paper. What makes it unique is that there are different types of drywall, each with its unique features and utility. Out of them, white and green drywall are some of the most commonly used ones.
What is the difference between green and white drywall? The difference between green and white drywall is that green is more resistant to moisture, making it perfect for bath, kitchens and basements. However, green drywall are more expensive than regular white and normal drywall and hence they are not used in areas where there is potentially no moisture present like rooms.
There are many different types of drywall or gypsum board that you can use for your home or place of business. Each type comes with different prices, size ranges, features and purpose. The type of drywall to use will greatly depend on the purpose and type of room you want to put the drywall in. Let's dive deeper into the different types of sheetrock and how they are different from one another.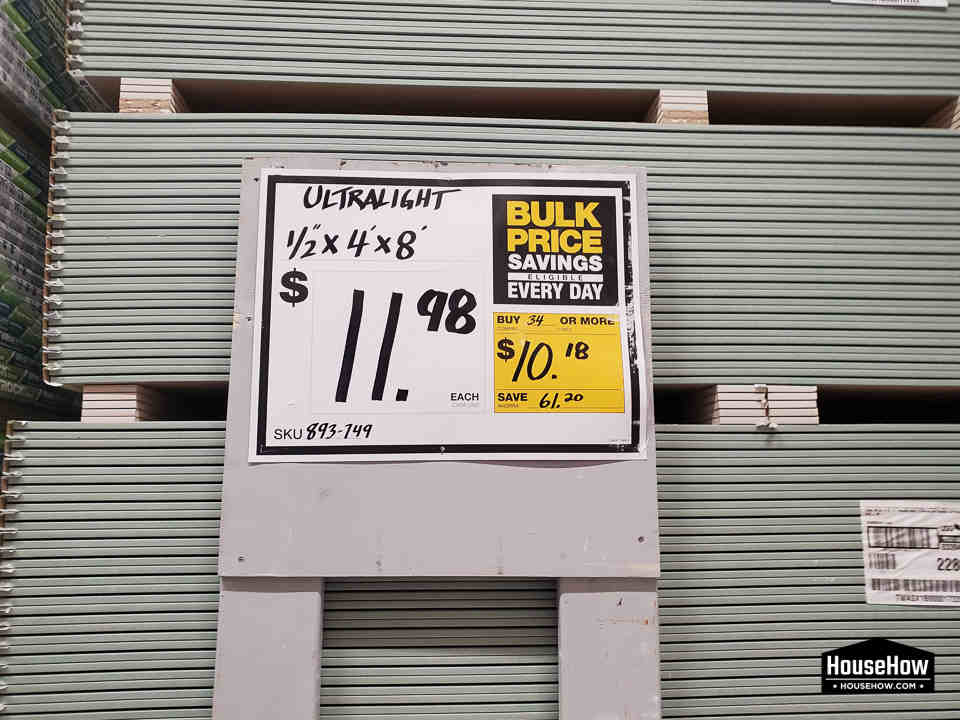 What are the different types of drywall?
Every type of drywall comes with certain advantages such as ease of installation, durability and appearance. However, each type also comes with unique features. Here are some of them:
White Drywall – White drywall is one of the most commonly used drywall for interiors. It is not only the most inexpensive of the lot but also comes in a wide variety of sizes. It's also the most basic type of drywall as it doesn't come with any enhancements. Similar to other types of drywall, white drywall is also fire resistant but not as much as X type drywall which is designed to be the most efficient when it comes to being fire-resistant.
Green Drywall – This one is more expensive than normal drywall or white drywall but it also has far more resistance to moisture. However, it isn't waterproof so it still won't be recommended for use in areas that are consistently wet or damp like the shower area in the bathroom.
Blue Drywall – Blue drywall is also called plaster baseboard and is coated with a veneer plaster which makes it look different from other types of sheetrock. This one has a high resistance to water and mold; however, it is not ideal to use with mud, tape, or paint. You can also use it in places that are consistently wet or damp such as a bathroom or near the kitchen sink.
Purple Drywall – This one offers great resistance against mold and mildew and is also ideal for damp and wet places. However, it costs significantly more than standard drywall. So while it may be expensive when used for an entire room, it does offer protection against the negative health consequences caused by mold and mildew.
Fire Resistant Drywall – These come in two types, namely Type X and Type C. Type X drywall is a unique type of sheetrock that is designed to be resistant to fire and is one of the best choices to go for when it comes to both homes and commercial spaces. Type C comes with more glass fibers and provides far superior resistance to fire but is more expensive.
Soundproof Drywall – Being denser than other types, this one is ideal for use in rooms where you want peace and quiet. It is made out of laminated drywall and layers of gypsum, ceramic, metal, and plastic polymers which helps to dampen sound significantly.
Eco Friendly Drywall – These also come in two types; Enviroboard and EcoRock. The former is made out of only eco-friendly materials such as waste fibers from newspapers or agriculture. The latter is also made out of recycled products but the materials used are different. Ecorock boards are composed of slag, kiln dust and fly ash and are resistant to mold and termites as well.
Paperless Drywall – This one is slowly becoming more and more popular when it comes to general usage as it is not only resistant to mold and mildew but also rot. It's also a lot tougher than regular drywall and is easier to cut. However, unlike other types, paperless drywall comes with a textured surface as it is made out of fiberglass and isn't as smooth.
Pros and cons of the different types of drywall
White Drywall
Pros – It is easy to install, affordable and lasts for a long time. It's also fairly resistant to heat.
Cons – It is weak against moisture and mold.
Green Drywall
Pros – It has good moisture resistance and is available in a wide variety of sizes.
Cons – It's not waterproof and doesn't have sufficient resistance against mold.
Blue Drywall
Pros – It has superior resistance to mold and mildew.
Cons – It's not worth the investment when it comes to usage in dry environments.
Purple Drywall
Pros – It offers great resistance against mold, mildew and is denser.
Cons- It uses a fiberglass mesh and so is itchy to the touch
Fire Resistant Drywall
Pros – It provides very high resistance to fire and can be layered for more resistance.
Cons – It adds up to a substantial cost when using it for a full room.
Soundproof Drywall
Pros – It's the best at dampening sound and is very thick and durable.
Cons – Due to the extra thickness, it ends up reducing the size of the room.
Paperless Drywall
Pros – It is easy to cut and hang. It's also very resistant to moisture.
Cons – Its textured surface doesn't provide the same level of finish once painted when compared to other types of drywall.
Related questions
What is the difference between green and purple drywall?
Both offer the same amount of resistance when it comes to fire. However, they also come with a few key differences apart from their color. Green drywall has a decent amount of resistance to moisture and can be bought from home depot whereas purple drywall is very resistant to mold and can be bought in Lowes. Purple sheetrock also is thicker and helps to dampen sound more efficiently but it is more difficult to cut and install.
Can green drywall prevent mold?
Unfortunately no. While green drywall offers a good amount of moisture resistance, other types of sheetrock perform far better than it. Blue drywall is far superior to it and the difference in cost is also not very big. So green drywall might get slowly phased out in the future as more and more people will be switching to more efficient ones.
Is green or purple drywall better when it comes to moisture resistance?
Green drywall is ideal to use in places that see a little bit of moisture but it doesn't fare well against mold or mildew. Purple is better against mold, mildew and is also good against moisture but is more expensive. So the right one to use will depend on the level of consistent dampness in the area and your budget. If the area is consistently damp, the best one to go for will be purple drywall. As far as price goes, it would be wiser to invest a little bit more and get better protection against mold and mildew rather than short term value.
Related community topics
If you have any other questions that are not answered in this article, you can ask them on our Home Improvement Community Forum by clicking on this link.