Installing a backsplash in your kitchen is a necessary task and one that will help you a lot in your future. It protects the wall behind the sink as well as any counters nearby from getting splashed with water or food particles. Installing it is not complicated but there are a few things you need to keep in mind.
Does backsplash tiles go on drywall? Yes. Backsplash tiles can be installed directly on drywall, without installing concrete or wonderboard.
A tile backsplash provides both functionality and convenience while also adding to the overall aesthetic appeal of your kitchen. It can also end up a complete disaster if you install it the wrong way. Let's take a look at how to do it the right way.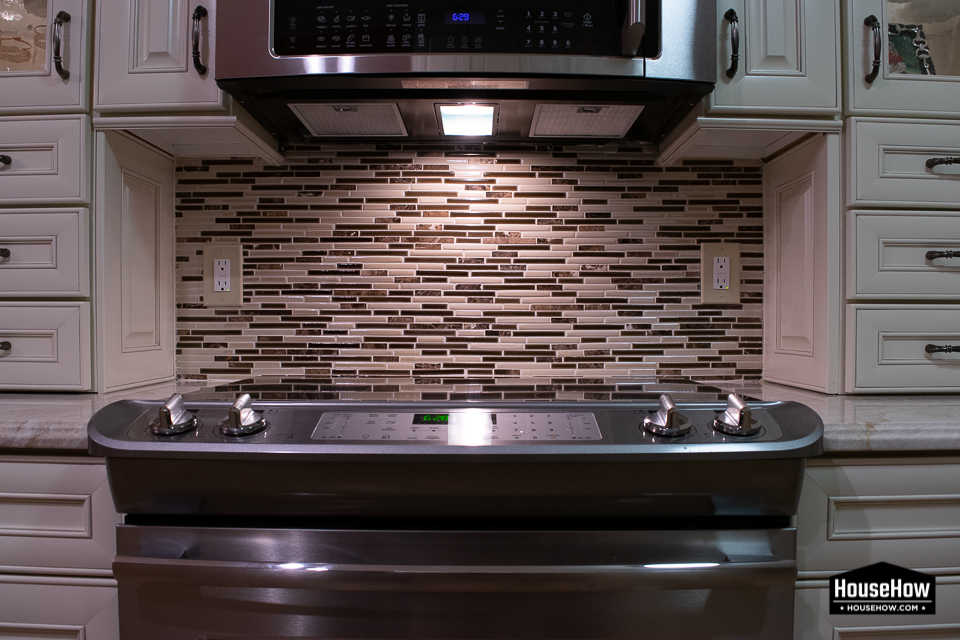 Does backsplash tile go on drywall or do we have to replace it with a concrete board?
Yes, we install it directly on drywall but can only be installed on an existing sheetrock if it is clean and even. If not, we have to cut the old drywall and screw the new one in place of the old one.
Wondering if you need to install one in your kitchen? In most kitchens, there is only very little space between the countertops and the cabinets which makes it hard to clean. On top of that, water or small food particles from your sink can always splash there and cause quite a mess. Here is where a tiled backsplash comes in. It not only makes the surface look much better but also protects your walls from unwanted splashes. Cleaning a tiled surface is a lot easier than a normal wall after all, especially when it comes to stains. Before you install one, however, you need to prepare the drywall.
Preparing the surface will be different based on whether the drywall is new or an old one. Here is how to do it in both cases:
New drywall
Remove any power outlets, switch plates and other electrical components.
Check and see if it's properly secured to the studs.
If there are any seams on it, then seal them with drywall tape and let it dry.
Once it's dry, you need to sand the portion and clear all the ensuing dust by using a vacuum cleaner.
Use a rag to clean the area once more and remove any remaining dust.
Now you can apply the primer.
Old drywall
Remove any power outlets, switch plates and other electrical components.
If there is old wallpaper on the wall, scrape it off with a putty knife.
Clean the area thoroughly with a good cleaning solution and let it dry.
If there are any holes, spackle them and sand the area.
Vacuum and then wipe the area with a wet rag. Let it dry.
Apply the primer.
Do remember that the first thing you need to do in either case is to make sure that the drywall is still structurally sound especially if you are installing a backsplash on old drywall. If there are any issues, contact a professional and get them fixed as soon as possible.
How to install a backsplash properly?
Here is how you can install a backsplash properly to ensure that there won't be any hassles down the line.
Plan it – The first thing to do is start planning how you are going to go about it and the amount of space that needs to be covered. When you take the measurements, be very careful to take the right one as it can lead to a lot of issues down the line if you do not.
Choose the tiles – Now is also a good time to start thinking about the type of tiles you want to use for your backsplash. Usually, the tiles used for this purpose are thinner and lighter than the ones you install on the floor. Make sure the tiles are of high quality and that they will match or complement the aesthetics of your kitchen.
Lay the tiles – Before you apply any adhesive on the wall, try to keep the tiles on it to see if you might have to cut any. To keep the tiles properly in place, you can put a block of wood at the edge or install a ledger board to keep the tiles in place. If any cuts are required, mark them properly and accurately.
Install the tiles – You can use mastic or a strong tile-friendly adhesive for installing the tiles. Make sure that the entire surface is covered and place the tiles from the bottom up. This way, each tile placed on top will have proper support. Then press the tiles gently to make sure it sticks to the adhesive.
Grout the tiles – Once you have allowed the adhesive to dry fully, you can start grouting. Fill all the gaps equally so that you get a completely even surface. Once it has been set, you can clean any excess grout by using a wet rag or a sponge. Be delicate as you don't want to pull out the applied grout between tiles.
If you want to know even more about it, read my brilliant article: "Everything You Need to Know About Installing Tiles on Drywall"
Related questions
Can you tile directly on drywall?
Yes, you can. When it comes to installing tiles, you can do so over any type of drywall unless it is for a high moisture area. You may think that the area behind the sink may belong to that category but it doesn't. A high moisture area is a place where there is consistent wetness or humidity like a bathroom. A kitchen, even if it has a sink, is not considered to be a wet enough area where they might be an issue applying tiles on the drywall directly. You don't use your sink that often after all and even if you do, the amount of water that splashes around isn't as widespread as it is when you take a bath or a hot shower.
Do you need special drywall for the kitchen backsplash?
No, you don't. You can install a backsplash on any type of drywall. However, you need to make sure that the surface is flat and clean. Even if the surface has small bumps or holes, applying the tiles can be a nightmarish endeavor where you lose both money and time. The same is true when it comes to how dirty the surface is too. Dust and dirt can create a lot of problems when it comes to applying an adhesive. For the tiles to stick to the adhesive properly, the surface needs to be clean and completely free of dust and dirt. Finally, you need to prime the area too so that any risk of a chemical reaction is minimized and to prevent the formation of air bubbles.
How do you prepare drywall for a backsplash?
The first thing you need to do is inspect your wall for any structural issues. If it's not, you need to get it fixed before doing anything. Then you need to see if the surface is flat enough to apply the tiles properly. Also, check for damage and mold too as they can cost you a lot of money down the line if they aren't addressed in time. If the drywall is flat and devoid of any issues, you need to clean it properly and make sure there is no dust on it. Then all there is left to do is to prime it. Always prime an area that is bigger than the space you plan to install the backsplash on. This helps in minimizing any cut in work you might have to do later on.