Ever since the microwave entered my kitchen, life has been much easier. I am one of those avid users of microwaves who cannot even think of surviving without it for an entire day. If you use your microwave only to reheat foods, I'm quite sure you are under-utilizing it. In fact, there are so many incredible ways to use microwaves, starting from cooking meals to peeling garlic, disinfecting cutting boards, warming beauty products and the list goes on. However, one thing that you need to always avoid is putting metal in a microwave. But have you ever wondered why you should not put metal in a microwave?
As a general rule, things that go inside a microwave absorb its radiation. Any metal object is a great conductor of electricity. If you put it inside a microwave, it can heat rapidly and burn the microwave. This is why you should never put metal containers, forks, and spoons in a microwave.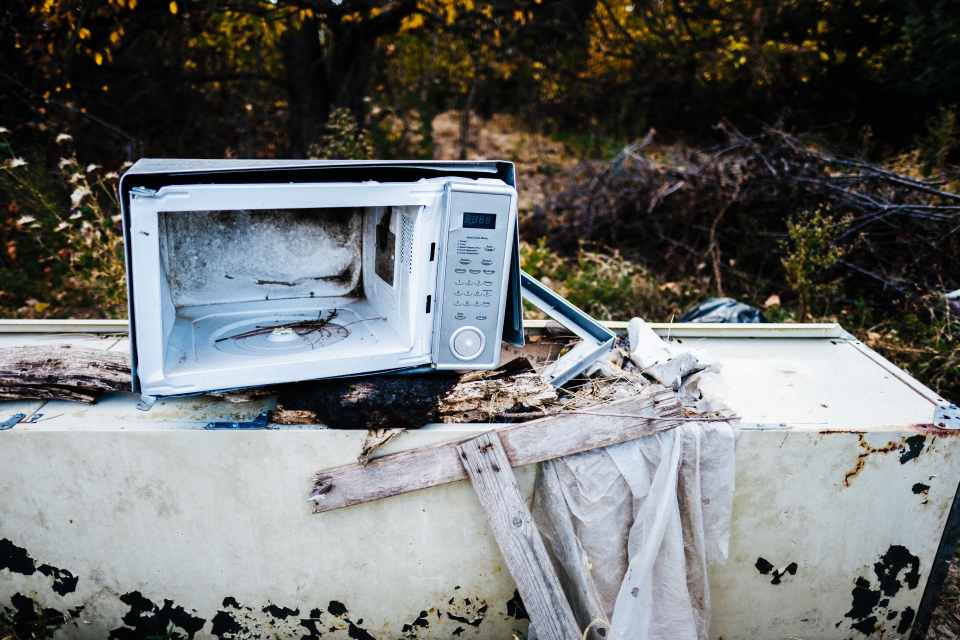 Why you should never put metal in a microwave?
Metal contains more electrons than other solid materials such as glass, porcelain, and some plastics. When a metal is put inside a microwave, the electrons in the metal start reflecting the microwave radiation. It can cause fire sparks or significant damage to the microwave oven. This is why you should never put metal in a microwave.
Microwave ovens contain a component named magnetron, which looks like an electric tube. This component functions by producing microwave radiations, which get reflected within the four metal walls inside the oven. Any food that you put in the microwave contains some amount of water, which absorbs the microwaves and starts to vibrate. It causes the food to heat up. However, when you put a metal inside the microwave, it cannot absorb the microwaves and instead, reflects the radiation within the four walls. It can eventually catch on fire and create huge damage.
Is putting metal in a microwave dangerous?
Yes, it could be dangerous to put metal in a microwave because it has a tendency to damage or burn the appliance. Putting metal in a microwave mostly refers to metal containers or cutlery as you won't be putting any random metal object in a microwave.
Almost all metal containers are considered unsafe for microwaves. Even the glass or porcelain containers that have metal rims are unsafe for microwave use. Hence, be cautious while choosing containers for microwaving and make sure you only use microwave-safe ones. (Recommended article: 'Is it Safe to Boil Water in a Microwave?')
What could happen if you put metal in the microwave?
There can be anything from small electric sparks to a huge blast inside the microwave if you use metal. So make sure not to use any kind of metals or metal containers when you microwave food.
Why does aluminum catch fire in a microwave?
Aluminum catches fire in the microwave because it is a metal. Any kind of metal is not microwave-safe as they have electrons that reflect the radiation inside the microwave and tend to catch fire. Even if you put aluminum foil inside the microwave, it can heat up very quickly and might catch fire sometimes.
Can I put aluminum foil in a microwave?
Though it is not recommended by the experts to put aluminum foils in a microwave, I would suggest you put them in small quantities if your microwave's user manual approves it. However, make sure the foil you use is new and smooth. There should be no crumpling in it. Also, never reuse aluminum foil twice for microwaving, which is a common mistake many people do.
Which metal is microwave safe?
Almost all kinds of metal are unsafe for microwaves. Aluminum, stainless steel, and copper are some common metals that most of our containers are made of. These are totally unsafe if you are considering cooking or heating something in the microwave.
Related Questions:
Why is there a spark in the microwave when I use metals?
Metal heats up very fast and starts to spark in the microwave because it contains electrons in a huge quantity. The electrons in the metal cannot absorb the microwave radiation and create electric fields in microwaves. If you do not turn the microwave off when you see metal sparkling, the appliance can be burnt or severely damaged.
However, many microwave users say they haven't faced any issues when using sheet pans and rounded metal racks in the microwave. The reason could be the shape of these metal pans and racks. Metal containers that have no pointed edges are still safer to use in the microwave than those with sharp edges such as a fork. The sharp-edged metals have a high chance of concentrating the voltage at their tips, which ultimately results in electric sparks.
What would happen if you use stainless steel in a microwave?
If you use stainless steel in a microwave, there can be arcing or electric sparks inside. Stainless steel is not microwave-safe at all because it is not capable of absorbing microwave radiation. Hence, they often catch electric current quickly and begin to spark.
Related community topics
If you have any other questions that are not answered in this article, you can ask them on our Home Improvement Community Forum by clicking on this link.
Header photo © Vlad Zaytsev / Unsplash