During my many years of experience in bathroom remodeling, I have been convinced many times that improper protection of a bathtub during construction works can be very expensive. It is definitely worth spending a little time to secure it in the right way so that the rest of the work proceeds in an efficient and professional manner.
How to Protect a Bathtub During Construction? The best and cheapest, but at the same time the most time-consuming way to protect a bathtub is to use the cardboard in which the bathtub was delivered. The cardboard should be cut with a knife in such a way as to cover all the exposed parts of the bathtub and connect them with a painter masking tape.
This article will show you why it is worth to protect the bathtub during bathroom remodeling. If you want to learn how to do it "like a pro" click on this link: "How to protect your bathtub with cardboard – step by step".
Why is it worth protecting the bathtub during bathroom renovation?
During renovation works in the bathroom, we can damage the bathtub in many ways. The main and most dangerous damage is mechanical damage. It is easy to imagine how much havoc can be caused by the 1x2ft ceramic tile falling from a height of 5ft.
Spatter damage caused by mechanical damage in metal enamel covered baths is virtually irreparable. Acting commercially, we can be sure that our client will demand replacement of the bathtub with a new one, which combines the purchase of a new bathtub as well as the dedication of a huge amount of time for its replacement. During repair work in the bathroom, it is also very easy to scratch the bathtubs, which can also be difficult to hide.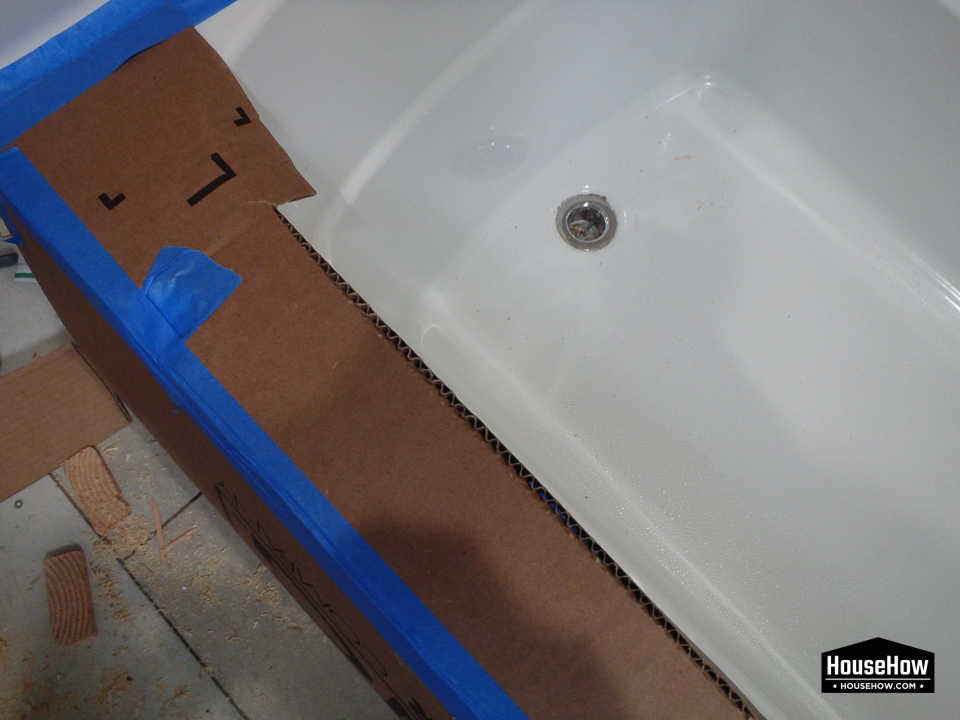 The second type of damage is all kinds of dirt that are difficult to remove. Metallic baths often have an anti-slip surface, which is very easily colored from the rubber soles of the shoes. These surfaces are also an ideal substrate for thinset mortar that is used for tile installation as well as grouting.
How can I protect my bathtub?
There are a few ways in which you can properly protect your bathtub when remodeling, tiling or when new construction is going on in your bathroom. Each method offers a unique advantage and can be used for specific purposes. There are as follows:
Rigid Foam and Plywood – This method not only offers protection for your bathtub but also allows workers to stand on it and work on the ceiling above. To do this, you need to have two sheets of rigid foam board (one for the top and the other for the apron) and a half-inch piece of plywood (must fit the opening properly). The rigid foam is first placed in the tub to secure the inside. Then place the plywood piece on top to not only protect the tub but also serve as a platform for the workers.
Cardboard – This is the most affordable way to protect your tub during remodeling or construction. It is important to note that this will also take a fair amount of time. The idea here is to cut the sheet of cardboard into separate pieces so that it fits each part of the tub (inside and outside) and using tape to hold them together.
Tub Wrap – This is one of the easiest ways to secure your tub but it will cost you money. All you have to do here is buy one that fits the size of your tub and use it to cover your bathtub. They are easy to use and don't require any clean up afterward.
Liquid Mask – A liquid mask creates a layer of protection with the help of a tough latex coating and can be used to protect your bathtub when remodeling or construction is going on. You can either paint on or use an airless sprayer. For more efficient protection, you might have to apply two coats but they will be difficult to remove after the work is done.
Bathtub Liner – A bathtub liner is another easy way to protect your bathtub but similar to most other methods will cost you money. They are usually made out of high-impact flexible plastic material designed to withstand and absorb shock as well as prevent scratches on the tub.
Related questions
What are the advantages and disadvantages of protecting a bathtub with liquid mask?
Using a liquid mask for protecting your bathtub during construction or remodeling work has both advantages and disadvantages. They usually come in either 1-gallon or 5-gallon variants and either one can be bought based on the size of your bathtub. The advantages and disadvantages are given below.
Advantages
It effectively protects your bathtub from scratches, burns and small debris.
You have full control over its usage allowing you to fill any gaps easily.
You can apply more coating if required for more protection (two coats are usually enough).
Good to use when tiling work is being done on the wall near the tub.
Disadvantages
Once the work is over, it can be a bit difficult to remove.
It usually smells bad.
It costs a significant amount of money.
It can only protect your tub from minor issues. It's not advisable to use it if there is work to be done on the ceiling above the tub.
What are the advantages and disadvantages of protecting the bathtub using cardboard?
As I wrote earlier, the protection of the bathtub using the cardboard in which the bathtub was delivered is the best and cheapest method.
Virtually every bathtub manufacturer marks the tub bottom shape on the cardboard, thanks to which it will be easier to cut out the desired shape. Availability is also a big advantage. The only material that we will need is a Scotch Blue Painter's Tape (cost about $7) or a roll of other masking tape that does not leave any glue after moistening. As a tool, we will of course use the box cutter knife.
Another advantage of this method is the ability to work in the bathtub and easy access to the surrounding walls, which allows us to tiling the work, as well as the possibility of partially uncovering the bathtub during progressing works, such as the shower door installation.
The main drawback of this method is the fact that it requires about 1 hour of work, and it requires some manual skills from us. In addition, if we install an enameled steel tub, our masking tape will not stick to the bathtub, which will make our task difficult.
The second disadvantage of protecting the bathtub with cardboard is the difficult access to the drain and not being able to fill the bathtub with water to check for possible leakage if we have already not done it before.
What are the advantages and disadvantages of protecting the bathtub with two sheets of rigid foam and plywood?
Another popular way to protect the bathtub is to use two sheets of rigid foam board first to cover the top of the tub with the other being used to cover the apron. The upper part in this case is covered with plywood. This method is usually seen in new construction jobs, when the bathroom is built from scratch and is very much used during residential bathroom remodeling.
The main advantage of this method is very reliable protection against damage. As well as the ease of getting to the bathtub, which is useful when there are several companies working in the bathroom and for example a plumbing company deals with its connection, and the installation of tiles is another company.
The biggest disadvantage of this method, however, is the difficult access to the walls during installation of tiles and other works within the bathtub, which practically disqualifies this method in the case of residential bathroom remodeling. Another disadvantage is of course the availability of material for protection, which must first be purchased. This method is more expensive than that. The cost of 2 sheets of rigid foam board and one sheet of plywood is around $60.
Related community topics
If you have any other questions that are not answered in this article, you can ask them on our Home Improvement Community Forum by clicking on this link.